It's been nearly a year since a massive earthquake devastated portions of Haiti, but as the recent cholera outbreak demonstrated, the challenges for survivors have hardly receded. One bit of help on the way: Solar panels, which will go to five remote medical centers – just the sort of thing needed to help stem the spread of disease.
In a press release, SolarWorld said 440 of its 230-watt Sunmodule panels – totaling about 100,000 watts worth – were headed to Port-au-Prince from Miami.  The company said this was the third round of equipment that it had provided to Haiti since the quake.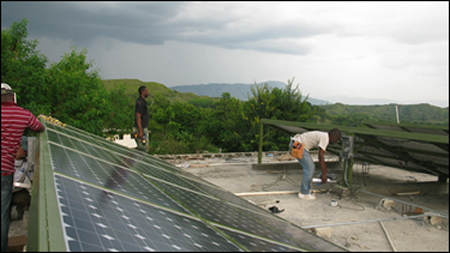 The U.S. nonprofit Solar Electric Light Fund (SELF) is running this relief project, with SolarWorld's panels going to clinics overseen by the international medical relief organization Partners in Health. The solar systems will "largely replace expensive, unreliable diesel generators," SolarWorld said.
"With the destruction of major medical facilities in Port-au-Prince, there is now greater reliance on rural health facilities," Robert Freling, executive director of SELF, said in a statment. "SolarWorld's panels offer the double benefit of providing clean, healthy power without fail for decades while also saving money otherwise spent buying scarce fuels and making machine repairs."
Looking for green gadget gift ideas for this holiday season? We have you covered with our annual Green Gadgets Holiday Gift Guide – check it out now!