If you're looking for a last minute Christmas gift–especially for family in the UK or Europe–look no further than the solar powered solarpod charger by thousandsuns, said by its developer to be the "innovative, simple and stylish" way to kick the grid-tied electricity habit for a wide range of techno gizmos and appliances. It isn't a cheap stocking stuffer however, costing around £499.
This solar charger comes complete with an eco-friendly LiFePo4 (Lithium Iron Phosphate) battery and includes a 300W inverter, a UK 3-pin socket (or a continental 3-pin socket, for Europe), 2 USB ports and a 12V car socket. It can be charged either via the 30W/60W foldable solar panels or by plugging it directly into a wall.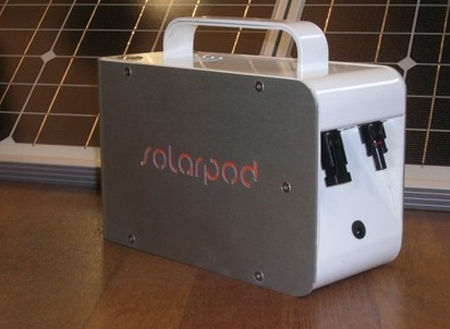 We especially like the fact that this charger features a standard outlet, which allows for just about anything that plugs into a wall–TVs, stereos, games consoles, laptops, phones, power tools, etc.–to work with it. It is also noted of the 30W/60W solar panels (which might be optional) that you can choose either "a robust, yet lightweight and waterproof aluminium panel that allows stability on most surfaces or a completely foldable and flexible system."
Looking for green gadget gift ideas for this holiday season? We have you covered with our annual Green Gadgets Holiday Gift Guide – check it out now!