Asked what distinguishes his company's electric-vehicle (EV) charger, ECOtality CEO Jonathan Read said, "The most important thing is, we are the smarter charger." Asked the same question, Read's counterpart at Coulomb Technologies, Richard Lowenthal, said, "We invented smart charging."
As Nissan rolls out its all-electric Leaf and GM its extended-range Chevy Volt in the coming months, these two Bay Area-based companies — much smaller than the car giants, but no less hopeful that Americans will embrace electric vehicles (EV) — are maneuvering to be the choice for people needing to plug in.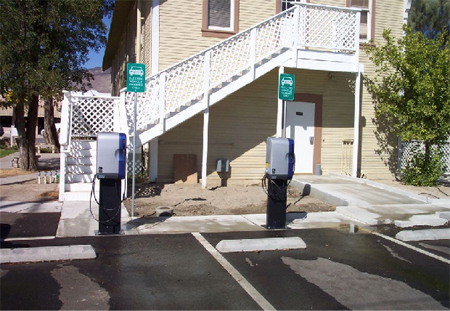 ECOtality and Coulomb are the leaders in the emerging EV-charging market. They convinced the U.S. Department of Energy (DOE) they were well-equipped to put a charging infrastructure in place quickly and gather important driving and charging data for the department about early EV users. In turn, the feds showered ECOtality with a $115 million grant to install, at no cost, around 15,000 charging stations in homes and public locations through the EV Project; Coulomb, meanwhile, got $15 million for a 4,600-charger program called ChargePoint America.
These aren't the only two companies making chargers. Nissan has partnered with AeroVironment to equip new Leaf buyers for $2,200, and GM hooked up with SPX Service Solutions, who will sell and install their charger for around the same price. And there are others. But why buy what you can get for free? If you have a garage or carport, with the EV Project and ChargePoint, free charging stations "should last through 2011, so it'll be a good year to buy a vehicle," Lowenthal said.
(It's worth noting that "free" in this case applies to those whose homes have adequate electrical service — 200 amp or higher — for the 220-240 volt Level 2 chargers the companies are offering. Older homes might not, and will require upgrades. That could add costs running into the thousands, although tax credits and rebates at the federal, state and local levels could be available.)
The DOE-sponsored programs essentially divvy up most of the areas where the Leaf and Volt will be initially sold, with ECOtality's EV Project available in metro areas in Arizona, Tennessee and Oregon, as well as Dallas-Fort Worth, and Coulomb's ChargePoint the choice in Michigan, Florida, Northern California and Austin, Tex. In some areas — Southern California, Washington, D.C., and Washington State's Puget Sound region—there's overlap.
The Level 2 chargers from both companies complete their charge in around four hours using what's known as the J1772 interface, a technical standard that works on the Leaf and Volt — and any EV now on or coming to the market. However, while the EV Project is serving both Volt and Leaf buyers, ChargePoint America freebies are limited to the Volt and the EVs from Ford and Smart that are coming to market later.
Lowenthal said that Coulomb will work with dealers and buyers so that Volt drivers are set up through the ChargePoint program even before they bring their car home. "We want to get out to your house, do the inspection, do the installation so when you drive your car home, you're in business," he said.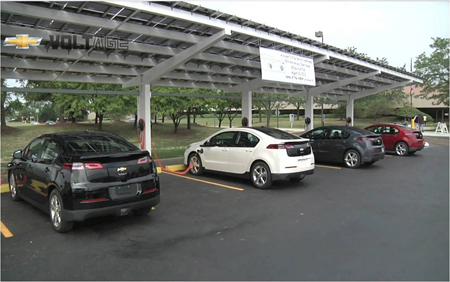 The guess is that the vast majority of charging will be done at home. This is a little surprising to hear given that the companies have spent so much time talking about public stations, and that the DOE is financing the installation of so many of them.
"There are a percentage of people who don't have a garage, who are parking their car on the street," Read explained. Plus, public charging stations are a tool in reassuring a public who might be scared off from EVs by the dreaded range anxiety. Lowenthal pointed to a UC Davis study that found that 80 percent of people believe they will want to charge more than once a day. "Our mission is to insure that if you are thinking about buying a car," Lowenthal said, "you don't hesitate because of fueling concerns."
Both Read and Lowenthal talk about their charging stations as parts of networks, painting a picture of EV drivers connecting on the Web, their phone or whatever their device of choice, to do things like find an available charging station or monitor a car that's in the charging process. And remember their emphasis on being smart? The idea is that whereas there might soon be $200 chargers you can pull off the shelf at an electronics store, a networked, smart charger will offer so much more — to users and to the utilities that provide power.
Why do the utilities care? A big new electricity draw from electric vehicles, if not now but five or 10 years from now, could present challenges in grid management. With smart charging, however, EVs can be a winner for utilities. Take Portland General Electric (PGE), in Oregon, where oodles of wind power has gone in recently. As spokeswoman Elaina Medina explained, that energy can't be stored. So if PGE can sell it in the middle of the night instead of dumping it, even at the off-peak rate of 4 cents per kilowatt hour (vs. 12 cents/kWh at peak times), that's good for PGE and good for consumers.
"With our charger, you're going to be able to take advantage of opportunities that you're not going to have if you go out and pick something off the shelf willy-nilly," Read said, explaining that your smart charger and the utility will talk to each other to charge your vehicle at the lowest cost, all while you get a good night's sleep.
Read's vision extends further: He points to the company's agreements with Best Buy and Arco to put Level 3 charging stations at 12 stores and 45 gas stations, respectively, as an indicator that retailers will come to view charging stations as a way to lure in and hold customers. These 480-volt chargers will "fuel" an EV in under 30 minutes, and ECOtality is planning to put in 350 of them as part of the EV Project. Read sees EV drivers on the way from Portland to Seattle stopping midway for a cup of coffee and a charge. The Blink fast charger is outfitted with a screen for advertising, which Read says will be targeted to the individual — another revenue stream for ECOtality, and a way to keep charging costs lower to consumers.
ECOtality is counting on a subscription-based business model for charging service, similar to mobile-phone service. Fast Company reported that ECOtality will charge $20 to $50 per month for subscriptions, but details are fuzzy and attempts to clarify what EV drivers who get a Level 2 charger from ECOtality through the EV Project can expect to pay went unanswered.
As far as the Department of Energy is concerned, that's all up to the companies it handed the millions to; it just wants the data. "The DOE does not have a preferred business model for public charging — we believe the market will respond to consumer preferences," said Chris Kielich from the department's Press Office.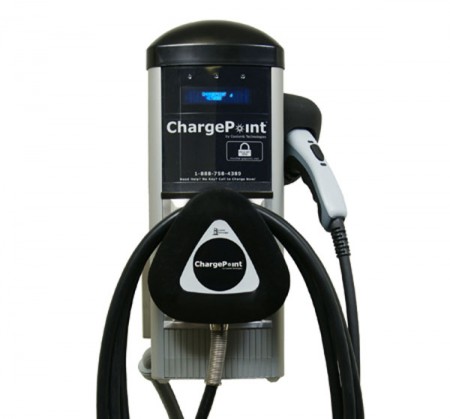 Over at Coulomb, Lowenthal talks about the months ahead in more nuts-and-bolts terms that Read, focusing on the big job of getting thousands of chargers in place, in homes and elsewhere. In states and localities that are aggressively pursuing an EV infrastructure, the permitting and inspection process for charger installations is far less burdensome than in other areas. Lowenthal said his company, which has already been installing its ChargePoint device, is more than ready for an onslaught.
Asked how he thought ECOtality would fare, he said: "I love those guys, but they've got a lot to do in a little bit of time. They've got to deploy 15,000 chargers. That's a lot of concrete to break up. The logistics of our business are pretty complex. Hopefully, they're ready."