For those of you who've been yearning after all these intriguing enclosed bicycle concepts we've posted here at Earthtechling (such as the Emcycle and the Flux Personal Transport) you now have a purchasable option, as of July, 2011. That's the expected delivery date of Sir Clive Sinclair's newest pedal-electric creation, the Sinclair Research X-1.
Sinclair is the UK inventor credited with pioneering the ZX range of computers who created  the world's first mass produced electric vehicle – the Sinclair C5–way back in1985. The C5 only sold 17,000 models, despite its similarities to today's increasingly ubiquitous electric bikes and scooters, leading Gizmag to speculate that it was simply "ahead of its time."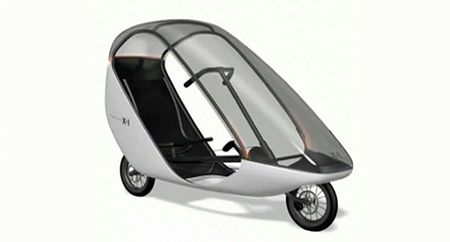 The new Sinclair Research X-1, as the name suggests, apparently reflects some more in-depth research into the needs and desires of the electric bike-buying market. It features a lightweight rechargeable 24 v Lithium battery pack, a super efficient MCR pancake motor, built in front and rear lights for visibility, front and rear disc brakes, and a reclining nylon seat enclosed by a waterproof acrylic bubble designed to provide a degree of protection from the elements. It weighs in at about the same weight as a mountain bike.
For residents of the U.S., this enclosed pedelec can be yours for $846, about the price of an electric bike. If you live and work in the UK, the government may be willing to chip in to cut the price of purchase in half, thanks to its "cycle to work scheme."
Would you like to get EarthTechling's Green News Buzz delivered to your inbox weekly? Sign up by November 12, 2010 and you could win a Voltaic Solar Fuse Solar Charger from EarthTechling.