They're like riding an easy chair. At least, that's the intended effect from E+ with its new Comfort Electric Bikes series, epitomized by the E+ Day 6 model, which comes with a big ol' cushy seat, adjustable backrest and raised handlebars. And of course there's the 750 watt — upgradeable to 1,000 watts — motor that will zip you along at 20 mph for up to 20 miles on flat terrain.
The Comfort series of electric bicycles is for "adult riders who don't want to crouch over handlebars, endure harsh and bone-crunching suspensions, or suffer small and uncomfortable seats," E+ marketing manager Jason Seybold said in a press release.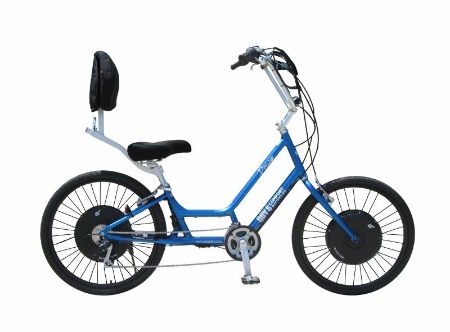 Seven bikes in the eight-bike series use frames from manufacturers such as Day 6, Schwinn, Jamis, Shogun, Marin and Biria. But there's also the company's own E+ Glide. No back rest here, but it does have the balloon tires, comfy saddle and high-rise stem and raised handlebar that keep the rider upright. Like all the E+ bikes it can be pedaled, but with a 1,000-watt battery that can reach a top speed of over 30 mph switching to electric mode and leaving it there seems pretty irresistible.
Prices for the bikes in the series range from $2149 to $2899.
Would you like to get EarthTechling's Green News Buzz delivered to your inbox weekly? Sign up by November 12, 2010 and you could win a Voltaic Solar Fuse Solar Charger from EarthTechling.