Another large scale solar plant has been approved for siting and operation on federal public lands, the U.S. Department of the Interior (DOI) announced yesterday. The 250-megawatt capacity Genesis Solar Project, first approved by the California Energy Commission at the end of September, now can proceed forward with development and the stated goal of producing enough clean energy to power 75,000 – 187,500 homes.
The plant, being developed by a a subsidiary of NextEra Energy Resources, will be located on nearly 1,950 acres of public land 25 miles west of Blythe, in Riverside County, California. It is the seventh renewable energy project approved through the fast-track process in less than four weeks, according to DOI Secretary Ken Salazar, which, when combined with the others, will produce 2,837 megawatts of electricity, enough to power 851,000 to 2.1 million homes, as well as create 3,700 new construction jobs and more than 600 permanent plant operations jobs.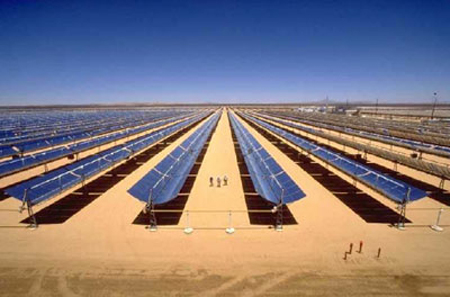 The Genesis project will make use of parabolic trough technology, where parabolic mirrors are used to heat a transfer fluid which is then used to generate steam. Electricity is produced from the steam expanding through steam turbine generators. It will deliver power via a generator that will tie-in to the Blythe Energy 230-kilovolt line, with interconnection to the Devers-Palo Verde #2 500 kilovolt line at the Colorado River substation.
As with other solar projects of this size, there have been some environmental concerns which impacted the final approval process. In the Genesis case, the developer will be providing funding for more than 2,000 acres of desert tortoise and Mojave fringe-toed lizard habitat to mitigate impacts. It will also employ a dry cooling plan, instead of a wet-cooling alternative, to reduce the project's projected water use from 1,400 acre-feet per year to only 200 acre-feet a year.
Would you like to get EarthTechling's Green News Buzz delivered to your inbox weekly? Sign up by November 12, 2010 and you could win a Voltaic Solar Fuse Solar Charger from EarthTechling.