We've covered some stories over the past year or so dealing with solar streetlamps, but this is the first we've seen that incorporates wind as well. The SavWatt 60 Watt Eco-PoleLED Street Light and Parking Lot Light is powered by a combo of wind turbine and solar panels. According to a recent release, the SavWatt Eco-Pole can replace a traditional 250 watt metal halide light and requires no grid hook-ups, saving 100% of the energy costs, maintenance and pollution associated with the energy used to power a traditional light.
SavWatt isn't providing much information on why, exactly, they chose to integrate wind power into the Eco-Pole (presumably, to provide off-grid power during inclement weather, when the sun isn't shining), but the LED-focused company does mention that demand for these types of units has been high–and that there's a patent-pending on the technology they used to produce these streetlamps.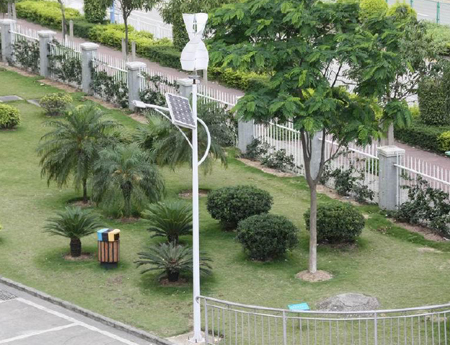 Sam Abecassis, SavWatt's VP of Product Development, said, in a statement, "SavWatt has been working on the Eco-Pole for several months, resulting in a product that provides an average 18 month return on investment. The Eco-Pole unit will provide efficient GREEN lighting, is self energized and aesthetically pleasing looking. We are in the process of registering Eco-Pole with UL, ETL, FCC, Energy Star and the US Departments of Energy and Transportation, with the goal of shipping these units in 2011."
Like what you are reading? Follow us on RSS, Twitter and Facebook to learn more and join the green technology discussion. Have a story idea or correction for this story you are reading? Drop us a line through our contact form.