The White House once had them. Parties recently have been clamoring for their return. An original was even returned to the White House, though it was sent packing. It looks like they will be back now though. What are we talking about here? Solar panels on the U.S. president's official residence, of course.
The White House and the U.S. Department of Energy (DOE) today announced plans today to reinstall solar panels on the famed American building. Panels originally had been installed there during the Jimmy Carter administration, but were subsequently removed during the Ronald Reagan era. Now they will be in vogue again, along with a solar hot water heater, as part of "a U.S. Department of Energy demonstration project showing that American solar technologies are available, reliable, and ready for installation in homes throughout the country." The announcement was made during GreenGov Symposium, which brings together "leaders from Federal, state and local governments, nonprofit and academic communities and the private sector to identify opportunities around greening the Federal Government."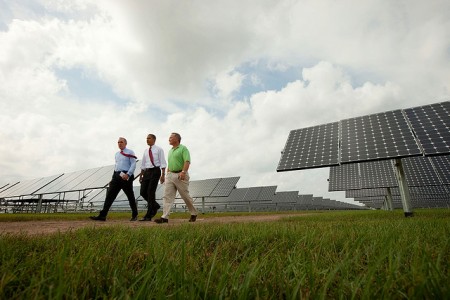 The PV system, according to the DOE, will convert sunlight directly to electricity. The solar hot water heater will have a solar collector facing the sun that will heat water for use in the White House Residence.  The federal agency has not yet selected an installer, planning to start  a competitive procurement process to select the company responsible for the installations shortly.
"President Obama has said the Federal Government has to lead by example in creating opportunity and jobs in clean energy," said Nancy Sutley, Chair of the White House Council on Environmental Quality, in a statement. "By installing solar panels on arguably the most famous house in the country, his residence, the President is underscoring that commitment to lead and the promise and importance of renewable energy in the United States."
Like what you are reading? Follow us on RSS, Twitter and Facebook to learn more and join the green technology discussion. Have a story idea or correction for this story you are reading? Drop us a line through our contact form.