It was a cold Monday morning in the Portland, Oregon suburb of Hillsboro when four mostly silent Chevy Volt cars rolled onto one of the campuses of Intel to greet local media, Intel employees and electric vehicles lovers alike. The vehicles, which were lined up for demo rides near a couple of electric vehicle charging stations, represent for GM, once a struggling American automaker but now slowly recovering, a future which could have it seeing green in more ways than one.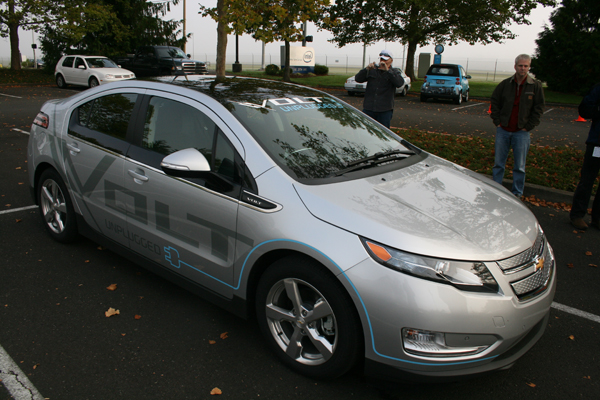 The Chevy Volt cars, of which some confusion is ongoing at the moment as to whether or not they are true electric cars or instead souped up plug-in hybrids, look in many ways like other American sedans at first glance. As you'll notice from the pictures we took at this last minute planned stopover – part of a national tour of the vehicles prior to a roll out to dealers before year's end – the Volt doesn't from a distance stand out in some way which makes it scream that it is a green car.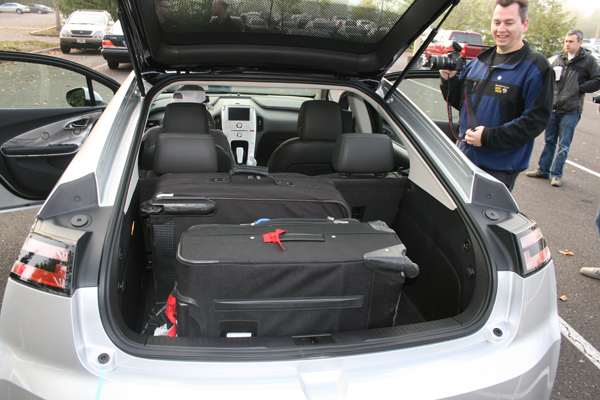 Get up close, however, and things look a lot different. Pop the hood and notice how it doesn't look like what you might be used to. Note the panel door on the front left side of the vehicle, which is for the charger connection – this is supplemented by a traditional looking gas panel door on the back right side for what we believe is the place to fuel the range extender engine (which, by the way, only takes premium gas). Look through the window of the car and see how there's a mostly lack of levers, knobs and manual gauges – these are replaced by tactile buttons and two color display screens, one of which is touch sensitive and very interactive.
Test driving the hatchback designed Volt felt at first like driving a typical American sedan – centered, somewhat heavy on the road and showcasing a design built with American pride. The front seats feel spacious and roomy, though the back seats leave a lot to be desired if you are a tall person. The number of technology options built into the two screens and console buttons almost conveys a sense of driving a spaceship, definitely making you feel like the car you are driving right now is a luddite by comparison.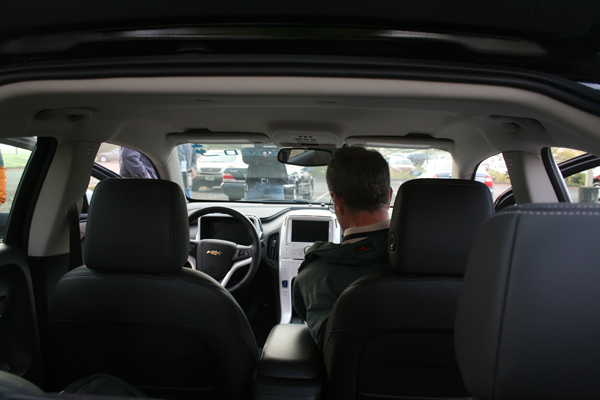 The Volt, in the few minutes I had to take it for a spin, had a quick acceleration, good handling on the road and, when the electric motor alone was running, only the sound of the road and the wind to tell me the vehicle was in motion. Not a bad beginning and perhaps, just perhaps, worth the $41,000 price tag GM has assigned it.
GM says the Volt's propulsion system "consists of a 16-kWh lithium-ion battery pack and electric drive unit that provide pure electric range between 25 and 50 miles, depending on terrain, driving techniques and temperature. A 1.4L gasoline-powered engine extends the range up to an additional 310 miles on a full tank of fuel by operating the vehicle's electric drive system until the car can be plugged in and recharged or refueled."
The Volt will reach a top speed of 100 mph and the electric drive unit's low speed torque of 273 lb.-ft. (368 Nm) takes it from 0 to 60 mph in less than 9.0 seconds and the quarter mile in less than 17.0 seconds. As mentioned previously, it had a good acceleration during the brief test drive I did.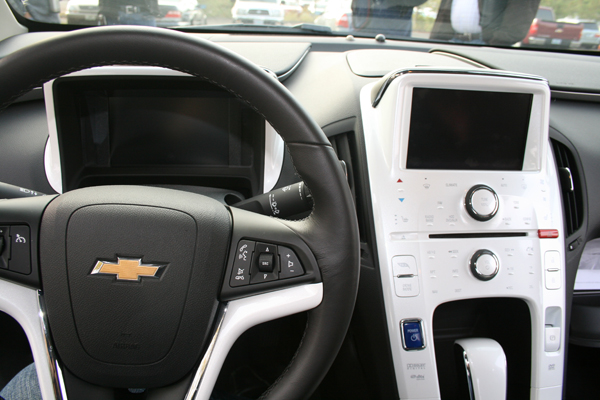 There will also be on board technologies galore, including the two seven-inch, color display screens; navigation radio with 60-GB (30 GB for music storage) hard disc drive; XM satellite radio; OnStar; a key fob that allows drivers to remotely start the vehicle and precondition the cabin based on outside temperatures; and a mobile app that enables owners to engage with the Volt functions using a smart phone.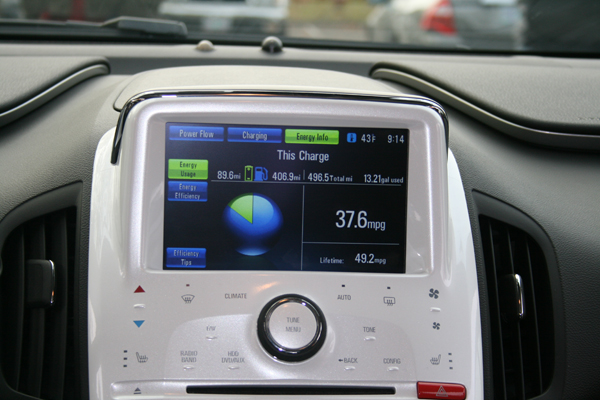 The screen shown above, GM said, is a high-resolution, seven-inch, full-color, center stack-mounted touch screen display that serves as the interface for infotainment and cabin climate controls. An Efficiency (Leaf) switch (not shown) accesses energy usage, power flow and charging screens.
GM said of the vehicle's safety features that the Volt's "body-frame-integral structure strategically blends advanced steels to help ensure crashworthiness and stiffness. Nearly 80 percent of the Volt's overall structure consists either of high-strength, advanced high-strength or ultra high-strength steel. Active occupant protection features include eight standard air bags and safety belts with dual pretensioners to help reduce the risk of injury."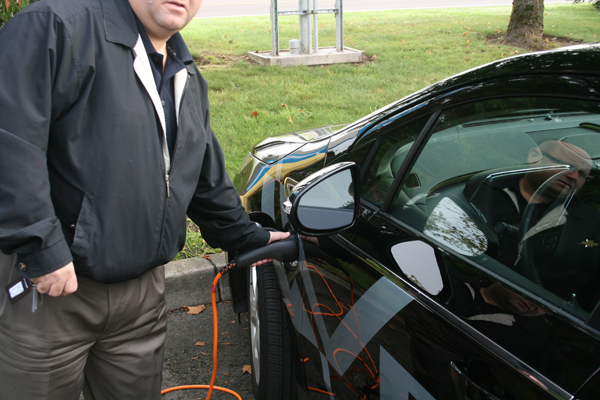 Charging the Volt's battery is said to be "simple and intuitive," and can be done through 120V conventional household electrical outlets, or through a dedicated 240V charging station. The vehicle is completely rechargeable in about four hours using a 240V outlet and 10 to 12 hours in a 120V outlet.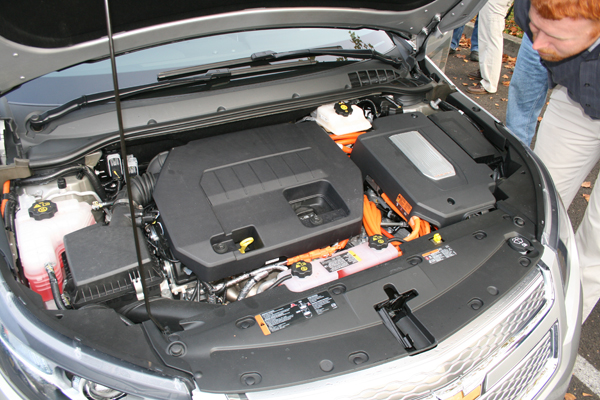 As for the range extending engine, power is inverted directly from this 1.4L 63-kW (84-hp) gasoline-powered onboard engine to the electric drive unit to provide up to the previously noted 310 additional miles of range. The battery pack powering the electric motor, meanwhile, is positioned in the center tunnel of the vehicle. It comprises nine linked battery modules that contain 288 prismatic lithium-ion battery cells, each of which functions as a building block. Each cell is the size of a 5 x 7-inch photo frame and encased in polymer-coated aluminum housings. They are, GM said, "thermally efficient, safe and designed to withstand extreme heat, cold or dramatic temperature shifts."