Bosch makes thin-film solar modules. They also make e-bikes. At Los Angeles' Solar Power Expo at the end of this month, they'll present a concept we hope will not remain a concept long: an integrated solar bike shelter designed to provide power to an e-bike equipped with a new type of drive system, designed to run on power from the sun.
These e-bikes help to iron out the hills on your commute, courtesy of electric assist. The company sees a future where that helpful electric kick comes via their UL 1703-certified, thin-film Bosch Solar Module µm-Si plus NA1110 modules–apparently mounted to a combo home bike shelter/charging station, as pictured–which can fully charge the bike's eight ampere-hour lithium-ion battery in two and a half hours.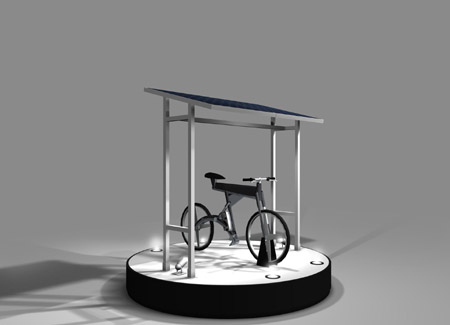 Bosch goes on to note that their thin-film modules don't just work in southern California, either. These modules offer "impressively high yields even at sub-optimal levels of sunlight" making them ideal for "the less sun-kissed regions of the world." (That's right, Portlanders.)
Like what you are reading? Follow us on RSS, Twitter and Facebook to learn more and join the green technology discussion. Have a story idea or correction for this story you are reading? Drop us a line through our contact form.