It can get hot on the roof of Santa Clara University's 2007 Solar Decathlon House, but it's now relatively cheap and easy to keep the temperature inside comfortable. That's because what's billed as California's first micro-concentrator (MCT) solar cooling demonstration—a utility-scale technology doing rooftop duty—was recently deployed on the building. This technology is designed to offset summertime peak loads by utilizing solar energy for commercial and industrial cooling needs
The joint project of Chromasun and SunWater Solar relies on a flat panel solar thermal collector that can achieve a concentration of 25 times the sun using lightweight, highly reflective aluminum mirrors, according to a Chromasun press release. Solar energy is collected from the mirrors by a specially coated stainless steel receiver pipe "that can efficiently generate temperatures up to 220 degrees Celsius." The whole unit is protected by a sealed canopy, has no external moving parts and is mounted on the same racking systems as conventional flat panel solar thermal collectors. The result, Chromasun said, is easy installation and high efficiency in "providing clean renewable thermal energy for air conditioning, space heating and hot water."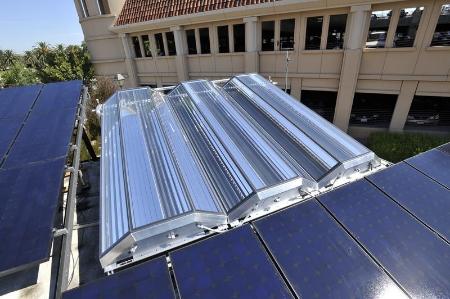 The 2007 solar-powered house at Santa Clara University is the result of a collaboration between more than 80 students from the university's School of Engineering. The house generates enough electricity to run a modern household. The solar house is located on campus and serves as a demonstration project for Bay Area schools and students interested in alternative energy and learning about sustainability challenges and solutions.
"Solar thermal technology is already proven as a cost-effective way to heat water for commercial and industrial facilities," said SunWater Solar's Justin Weil. "Our work with Chromasun is demonstrating that solar thermal is also an efficient way to cool large buildings, which brings the technology's financial and environmental benefits to an innovative new application."
Like what you are reading? Follow us on RSS, Twitter and Facebook to get green technology news updates throughout the day and chat with other green tech lovers.