A call for solar panels on the White House, which kicked off earlier this year and has steadily been gaining steam, is now hitting the road in the form of a field trip by some college students and an environmental activist. This group, consisting of Unity College students and 350.org co-founder Bill McKibben, hopes to encourage President Obama to reinstall panels atop the First Family's home.
The "Put Solar On The White House Road Trip," as it is being called, kicks off on September 7outside Unity House, the net zero, LEED Platinum solar home of Unity College President Mitch Thomashow and his wife, Cindy, on the campus of Unity College in Maine. The group will depart from there and, over the next several days, make scheduled road stops to stump for the return of solar panels to the White House. Panels used to be on this building, being installed during the administration of President Jimmy Carter as "a symbol of the innovation that could be achieved not only by the pursuit of solar, but by seeking the development of a wide array of alternative energy sources," but were subsequently torn off the roof during the Reagan years and tossed into storage to be forgotten.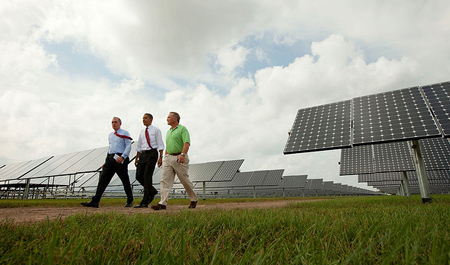 Accompanying McKibben and the Unity College students will be one of the actual panels from the Carter years, which Unity College relocated relocated a bunch of during the early 1990s to its campus. McKibben and participants hope to hand deliver the solar panel to the White House, encouraging President Barack Obama to reinstall solar atop the famous building on on October 10 as part of 350.org's 10/10/10 Global Work Party, a day when millions of people across the planet will get to work on climate solutions.
Like what you are reading? Follow us on RSS, Twitter and Facebook to get green technology news updates throughout the day and chat with other green tech lovers.