California continued its march towards solar power nirvana today as the state's energy commission approved once again by unanimous vote another massive solar energy project. This time around looks to be the largest – the 1,000 MW Blythe Solar Power Project, said to be the world's largest concentrated solar power facility and set to be built in eastern Riverside County.
The Blythe project, according to developer Solar Millennium, still must get final approval from the federal Bureau of Land Management. It will consist of four 250 MW plants that use "parabolic trough technology where parabolic mirrors are used to heat a transfer fluid which is then used to generate steam. Electricity is produced from the steam expanding through steam turbine generators." Once at full capacity, it is believed this solar power giant will reduce CO2 emissions by approximately two million tons per year, or the equivalent of removing more than 300,000 cars from the road. It will also be capable of generating enough electricity to power more than 300,000 homes annually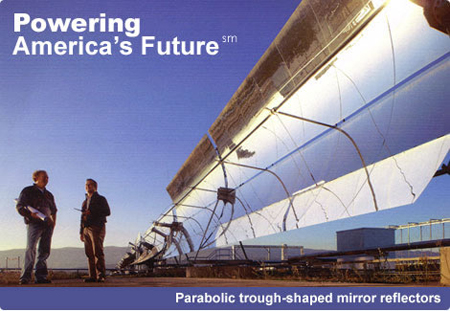 Not all will be eco-friendly with this development, however. It is ruling, the California Energy Commission noted that, even with mitigation measures, this facility will have "significant impacts on cultural resources, land use, traffic and transportation, and visual resources." It is believed though the benefits of this project justify "a legal override" of these impacts. It was found the Blythe development, while inconsistent as well with Riverside County's land use plan, complied with all other applicable laws, ordinances, regulations, and standards.
With this project approved, California now has three shiny new solar plants to call its own. It is believed that when all nine scheduled plants are approved, the state will have more than 4,300 megawatts of solar power added to the grid. The nine projects would provide more than 8,000 construction jobs and more than 1,000 operational jobs as well. Construction of the first two Blythe power plants is expected to begin by the end of the year, with the total project cost wise hitting about $6 billion, according to Reuters.
Like what you are reading? Follow us on RSS, Twitter and Facebook to get green technology news updates throughout the day and chat with other green tech lovers.