We've reviewed plenty of solar bags around here–and even solar messenger bags, ideal for bike transport–but this is the first we've seen specifically designed to fit on your bike. This seems like a good idea, as more surface area exposed to the sun means more juice for your gadgets.
The Solar Bicycle Bag (which comes to us via RedFerret) attaches directly to the handlebar of your bike, where it will keep your cell phone, music player, iPad, digital camera, etc., charged up and ready to go, via various attachments and adapters. This off grid charger comes with two compartments plus a wallet type enclosure to help you keep all that stuff straight, and detaches easily when it's time to lock your bike up and take all those valuable electronics with you.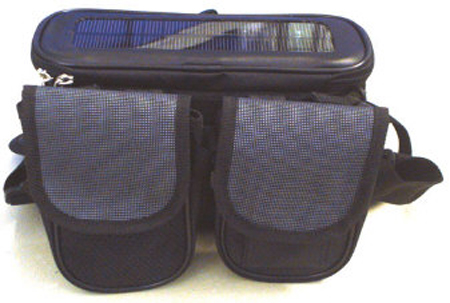 The Solar Bicycle Bag is constructed of sturdy mesh black nylon and features shoulder straps for easy transition from bike bag to general purpose bag. It draws its power from a 8.27 x 2.76 inch flexible photovoltaic panels integrated into the top of the bag and stores juice for all your portables in a portable battery–so even if the sun isn't shining, if your Solar Bicycle Bag is charged, it can charge your portables, too.
Like what you are reading? Follow us on RSS, Twitter and Facebook to get green technology news updates throughout the day and chat with other green tech lovers.