Now this is what we call appropriate technology: a solar powered gizmo that eliminates the back-breaking work of bending over and kneeling associated with gardening, whether it's planting or weeding. This wonder-device from Australia also has an appropriate name: the Wunda Weeder (which comes to us via Gizmag).
The Wunda Weeder consists, essentially, of a four-wheeled frame that allows the farm or garden worker to lie down on the job–face first, with his/her head supported and arms free. It comes with a sunshade/rain cover (which can be adjusted to provide protection not just overhead, but on the sides, in case of sun or rain slanting in at an angle). It also makes use of an integrated solar panel that provides forward or backward motion down the rows, via a hand-lever.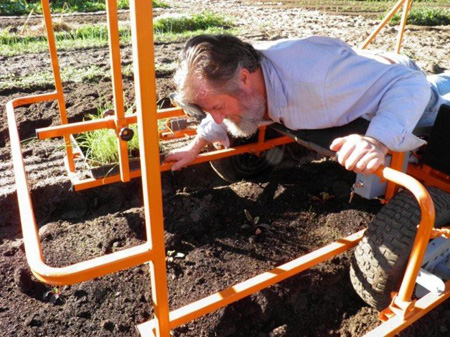 This device is the brainchild of environmental scientist Brendan Corry and electronics expert Peter Sargent , who see it as a boon to commercial farmers that could help to significantly increase farm productivity thresholds. Its projected price is just under AU$9,000 (US$7,920)–a figure that Corry and Sargent believe would be made back by most farms using it in under a year.
Like what you are reading? Follow us on RSS, Twitter and Facebook to get green technology news updates throughout the day and chat with other green tech lovers.