In the ongoing quest to perfect the carbon-free commute, designers Yan-ting Jiang, Wen-ling Huang and Yu-ting Wang have created a unique folding electric concept bike, the TwoQuarter.
According to Yanko Design, the TwoQuarter e-bike harvests power on the downhill portion of your ride and stores it in a lithium battery, housed at the back of the bike in a black case. Later, when you're fighting an uphill battle, that handy power-assist kicks in, ensuring that you won't arrive at work covered in sweat. Need to hop on the subway for the last leg of your commute? No problem, as the TwoQuarter folds neatly in two for easy carrying; later, if your spouse should happen to pick you up after work, you can fold the TwoQuarter even smaller, fitting it easily in the trunk of your car.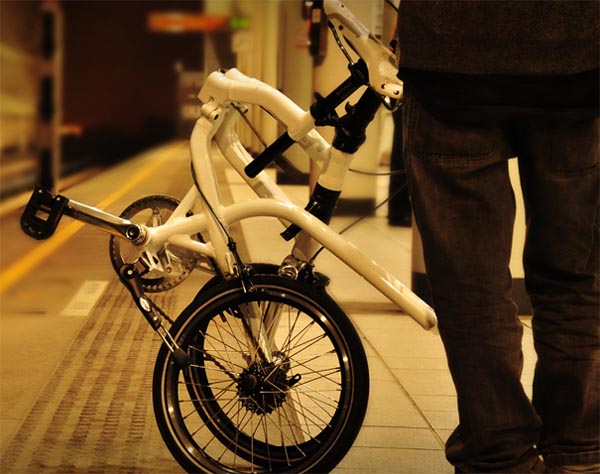 Unlike most folding bikes, the handlebar and saddle fold at the same time, making it easier and more convenient to do that Transformers maneuver; also, a single front fork and rear fork make the TwoQuarter thinner and smaller after folded than the traditional variety. And if your commute doesn't include enough downhill to get the TwoQuarter charged up for the uphill, you can simply remove the battery from its black housing and plug it in for recharging.
Like what you are reading? Follow us on RSS, Twitter and Facebook to get green technology news updates throughout the day and chat with other green tech lovers.