When it comes to solar chargers, does size matter? The pocket-sized Juicebar says 'no'–and aims to prove it by delivering one hour of cell phone talk time (or 480 minutes worth of stand-by time) on a single charge.
Like most solar chargers, this gizmo (which comes to us by way of Envirogadget) comes supplied with a wide array of adapters, allowing it to charge just about any portable under the sun–including cell phones, MP3/MP4 players, iPhones, iPods, and even some hand held gaming consoles. While it does take 12-15 hours of direct sunlight to charge completely, the Juicebar makes use of a small-but-mighty internal rechargeable Li-ion 1500 mAh battery that allows it to make the most of that charge, delivering it at your convenience to the portable of your choice.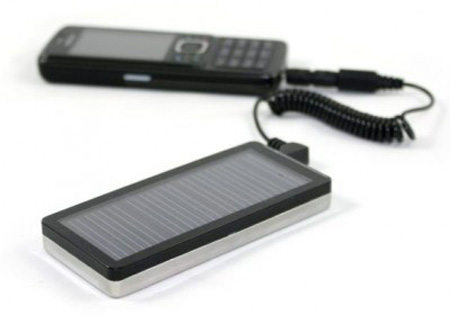 Unlike most solar chargers, this device measures just 0.4 in x 1.6 in x 3.7 inches (1.1 cm x 4 cm x 9.3 cm) and weighs in at about 2 ounces–about the same size and weight of most cell phones.  Oh, and if it's cloudy outside and you know you're going to be away from a plug for an extended period of time later on, you can charge the Juicebar via USB through your laptop. Yours for $30.27 (£19.95).
Like what you are reading? Follow us on RSS, Twitter and Facebook to get green technology news updates throughout the day and chat with other green tech lovers.