What eco dangers lurk in the night? The Shadow (Ebike) knows! And it's here to help you power up hills–and even your mobile gadgets–in style, thanks to a wireless electric assist system.
Greendiary reports that, unlike the conventional electric bike, this one is features a wireless braking, throttle and pedal assist system.  The lithium batteries housed in those spanky yellow wheels not only provide 1,000w of power for your electrically-assisted biking pleasure, but also juice up gadgets like iPhones, BlackBerries or even your laptop, backing up the manufacturer's claim that the Shadow Ebike is "the most advanced ebike on the market."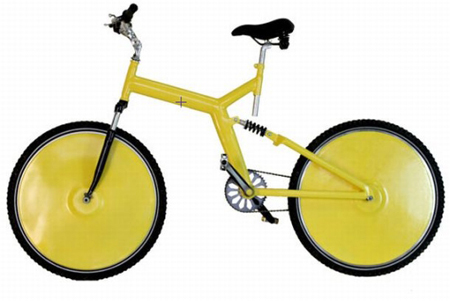 Not long ago, we covered a conversion kit for about a grand that can turn the bike you already have into an ebike. And in the past few months, we've covered tons of different portable off-grid chargers, which can run anywhere from $40-$300. Considering the Shadow Ebike can do the work of both an ebike and a charger–all while making an eye-catching fashion statement–it seems safe to say this bike is well worth the $1,499 asking price (provided it performs as advertised). But if you want to be one of the first to get your hands on one of these, you'll have to move soon: the limited first run of 300 Shadow Ebikes is slated for delivery in June.
Enjoying EarthTechling? Vote for us as Best Sci-Tech Blog (scroll down to fourth category) in the TreeHugger Best of Green Awards! Thanks!