It has been quite a week for green tech so far. First we've got the Geneva Motor Show going on with all the associated green car announcements. Then we have President Obama announcing the Homestar program which, if approved, would offer rebates for people who green their homes. Now comes word of the Joos Orange, a new personal solar appliance said to deliver up to 20 times the energy of existing personal solar devices.
Solar Components, the company behind the Joos Orange, said this device is capable of allowing an attached cell phone to offer around 2.5 hours of talk time for every hour of solar charging. It sports a five-inch mono-crystalline solar cell (said to be better than a "lower efficiency" poly-crystalline cell found on other devices) with an anti-reflective silicon nitride coating and a maximum power output of 2.6 watts. Built into it is a replaceable 20 watt hour Lithium-ion polymer (3.7 volt, 5400mA) battery reportedly "big enough to fully charge six standard cell phones or more than four smart phones."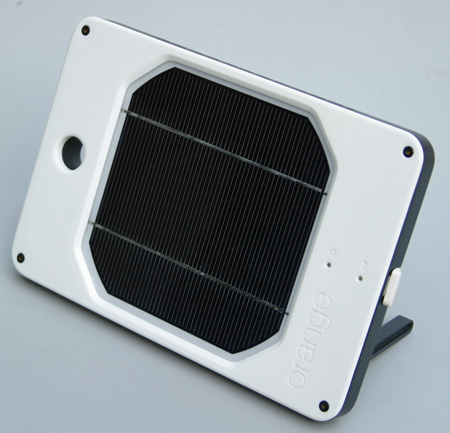 Features of the Joos Orange, which prices around $100, include a rugged polycarbonate casing encapsulated in urethane and waterproof, USB connectivity for  power status updates (via an application) and charging from a PC when no light is available, charging under low light conditions and LED status lights for power production and battery status.