With school coming to an end in the next few months and families preparing for summer, the height of the real estate season looms. The number of homes for sale rises as anxious sellers hope to pitch that sold sign out front and home buyers shop around for properties that fit their wants and budgets. A growing segment of buyers seek green homes, which is a type of structure that is loosely defined as bringing together "a vast array of practices and techniques to reduce and ultimately eliminate the impacts of buildings on the environment and human health."
On the green technology front, these practices and techniques can range from energy-efficient appliances to solar panels. As you consider buying a "green home" or preparing to sell one, what are some of the things to think about? To answer these questions we've turned to Portland, Oregon-based realtor Amber Turner for the answers. Turner is a realtor with boutique firm Living Room Realtors but, more importantly, she is also the founder of the green homes touring group GreenPDX and a strong advocate of the green homes movement.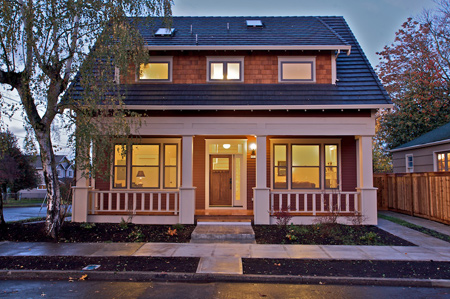 EarthTechling: What constitutes a "green home" by today's real estate standards?
Amber Turner: I believe for a majority of real estate industry professionals a "green home" is defined by certifications such as Earth Advantage, Energy Star, and LEED for homes. However, none of these encompass everything needed to make a home as healthy as possible. While the labeling is helpful for streamlining a greener home concept, one doesn't need buy into a label to have a healthy and energy efficient home. I believe as "green" becomes more mainstream and less of a buzz word, more and more consumers will be advocating for even higher standards of energy efficiency and less toxicity.
ET: What is the motivation for people making their homes green you think?
Turner: I think there three main factors that come into play for those going "green" at home. One is a concern for the state of our environment. In other words, more and more people are becoming aware of the fact that our homes account for up to 35% of carbon emissions by human consumption. Those carbon emissions are not only contributing to global warming, but also making us sick. Which brings me to the second factor – families. More and more families have become concerned about the health of their children. Our living environment indoors is now know to be even more important than the air we breathe outside every day. And third, there are long and short term financial benefits to reducing your overall consumption.
Especially for those with long term financial goals, implementing eco-home habits now just makes sense. If I could throw one more in there – going green is cool. Really. Being good to the environment, knowing we are making educated decisions to improve the lives of generations to come, is cool in a totally geeky way. I have clients who love to show off their on demand hot water heater (takes up about the space small computer attached to a wall) or their rainwater catchment system.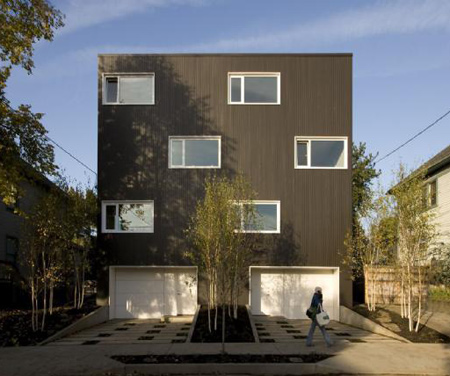 ET: What are some common green technology items one might find in an eco-focused home?
Turner: One of the smartest innovative new technologies to hit the mainstream in the past few years is the use of Heat Recovery Ventilators (HRV). HRV's use the preheated, stale air escaping the house to heat the fresh air coming in, thereby continuously reusing the heat you've already paid for, saving energy. They also allow you to have an air-tight envelope with, say, radiant heat floors or some other ductless heating system, and still have fresh air exchange. Most homes have tiny gaps of air leakage that add up to about a 3 foot hole in their exterior wall, so having an air tight house is important for energy conservation, but that fresh air is also very important for our health.
Another new device we're starting to see in homes are mini-split ductless heating and cooling systems. They are super efficient and, just as the name implies, require no duct work. These are popular for new homes built with SIPS (Structural Insulated Panels) or ICF (Insulated Concrete Forms), but are also versatile enough that someone could choose to seal off their old ducting systems and install them in an older home. The mini-splits are also extremely quiet. I know because we just installed one in our office – it works great!
Also, solar energy, both for electric use and heating hot water, is no longer just a good idea for the future, it's becoming an obvious choice now for many homeowners wishing to reduce their energy costs and consumption. The incentives have been great, and the price for panels is going down. The ROI (return on investment) is getting shorter, meaning that even if you only plan to stay in your home 5-10 years, you will reap the benefits of an average sized system. However, because the prices are going down, we should expect to see those incentives disappearing. In my opinion, the sweet spot for purchasing might be right now before those tax breaks are gone for good.
ET: Is there any green tech found in a home you don't actually consider green? Why?
Turner: One thing that comes to mind are some water purification systems being sold to consumers. For those who want to reuse their rainwater for clothes washing or toilet use, some of the twin tube UV systems use so much electricity that they completely negate the benefit of reducing your overall consumption. I recommend consumers to have a set list of questions they ask when making purchases like this, such as energy use, cost of replacing parts, recyclability, and so forth.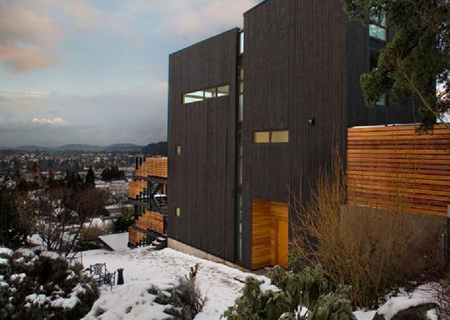 ET: What is your ideal green home?
Turner: Ahh, great question. I live in one, but it's not without its flaws. Well, ideally it has all the bells and whistles such as HRV, efficient rainwater catchment system, solar or wind generated power, super efficient appliances that don't pop out at you (hide the fridge!), some earthen floors (which actually feel and wear really great!) zero toxic material use, and plenty of energy efficient windows, especially south facing. The home would also open up to a nice outdoor living space with raised garden beds.
Enjoying EarthTechling? Vote for us as Best Sci-Tech Blog (scroll down to fourth category) in the TreeHugger Best of Green Awards! Thanks!