Your intentions are good: you want to ride a bicycle. But what about the wind and rain? What about those big hills? And what about those hulking SUVs on the road? An engineer and industrial designer named Michael Scholey faced the same dilemma, and decided to design the solution: the Emcycle concept, part bike, part pedelec, part car, all eco.
At 24" wide X 73" tall X 80" long, according to Yanko Design, the Emcycle is the size of a bicycle and weighs all of 80lbs. It has the attributes of a hybrid e-bike, in that it has three different drive modes, ranging from fully manual biking to electronic assist to fully automatic. The electric front wheel delivers a variable assist up to 1000 watts, offering up speeds up to 40mph and 40 miles of range on top of what your legs can provide. The Emcycle plugs in overnight and utilizes energy from regenerative braking for power.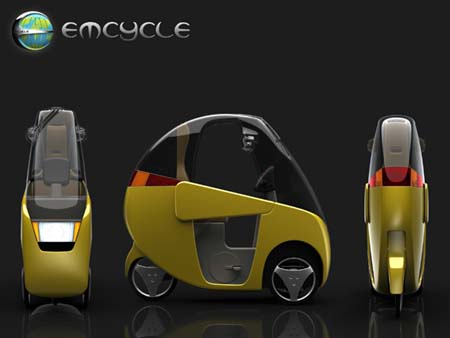 Beyond that, this cute little commuter vehicle acts like a car. It has a fully enclosed body,  two lockable doors, front and rear lockable luggage compartments, LED lights, windshield wipers, heat and ventilation, side mirrors, disc brakes and even a baby seat, if you want it.  As far as safety goes, if it comes to a head-on collision with a Hummer, the Emcycle is probably not the vehicle you want to be in–but seeing as how it features roll over protection, an airbag, a three point seat belt and has been been 30mph crash tested, it still beats the heck out of a bicycle.