Flush with the shingles, just a slightly different shade of black–who'd guess that Michigan Governor Jennifer Granholm's roof was sporting a solar electricity? That's the news, according to Jetson Green, which reports that the CertainTeed EnerGen Photovoltaic Solar Power Roofing System featured on the governor's official residence combines lightweight UNI-SOLAR panels with traditional asphalt roofing shingles in a 3.2 kW solar energy system.
The system features a design that apparently requires no rooftop penetrations. This is good news for homeowners, as it makes the system easy for conventional roofing contractors to install while maintaining roof deck integrity.  The EnerGen system debuted recently at the 2010 International Builders' Show in Las Vegas, according to a release, in conjunction with CertainTeed's Landmark Solaris solar reflective roofing shingles, demonstrating how solar reflective and photovoltaic technologies can work together to create a high performance solar energy system without sacrificing the visual appeal of the conventional homeowner's roof.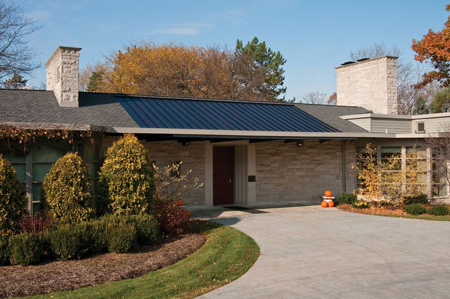 "EnerGen is the first step in what we hope will be a comprehensive portfolio of photovoltaic roofing products for residential and commercial applications," said Guillaume Texier, president of CertainTeed Roofing, in a statement. The EnerGen system will be offered in pre-engineered kits with everything necessary for installation; o word yet on price, but CertainTeed promises that the panels and installation will be competitive with existing systems.