Summary:
Want a great two-channel, compact audio system which is also eco-friendly as a favored iPod accessory companion? The Vers 2X from Sprout Creation may very well be that. It has rich sound, easy to use features, a sleek design and, best of all, it leans much more in the green direction compared to many other similar systems. Packaging for such a green focused product could be improved upon somewhat, but otherwise the Vers 2X is a very solid choice for iPod loving eco-geeks everywhere.
Rating:
EarthTechling gives Sprout Creation's Vers2X system 4.5 OUT OF 5 ECO-STARS.
Introduction:
iPod speaker systems come in all shapes and sizes these days. Most of them could not be considered eco-friendly at first glance though because of your typical issues such as high power consumption or use of hazardous chemicals in the body design or internal workings.
One company with claims to have eco-friendly iPod speaker systems is Sprout Creation. It is offering up its Vers series of systems which are said to be lower power consuming and made of more eco-friendly materials. They also have good looks and great sound. Is it possible to find such a system which will satisfy both audiophiles and eco-geeks at the same time? We were recently lent the Vers 2X two-speaker system to find out.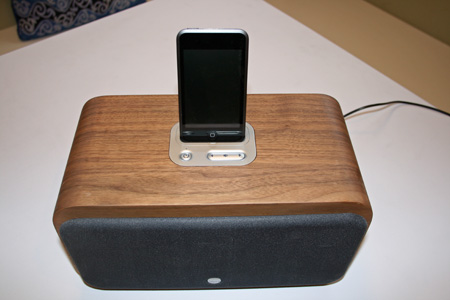 The Review:
The Vers 2X system, at first glance, is quite a nice looking and compact two-speaker design. It easily fits in many small spaces we found, making it a nice choice for those with small offices or dorm rooms. Our particular test unit is made from walnut the company says is among the most common available agricultural species on the planet. This sounds nice, as well as the fact the internal components contain no lead, mercury, cadmium, hexavalent chromium, polybrominated biphenyls or polybrominated diphenyl toxic chemicals.
While the system itself seems to be quite thought out from an eco-friendly standpoint, we weren't quite as thrilled by the packaging or its contents. There seemed to be a bit too much of both, despite the fact much of it was recyclable. There was a separate, large inventory sheet which could have been easily integrated as an extra page or two in the product manual. We were also bothered by the large cardboard holder with individual slots for each of the included iPod adaptors and the remote.
The Vers 2X, as with any speaker system like this, is very easy to setup. Take it out of the packaging, plug it in to a standard wall outlet, drop in your iPod into the docking slot and hit power. It was certainly nice to see iPod adaptors included in the contents, as these always provide for a more secure fit between your specific iPod model and the slot.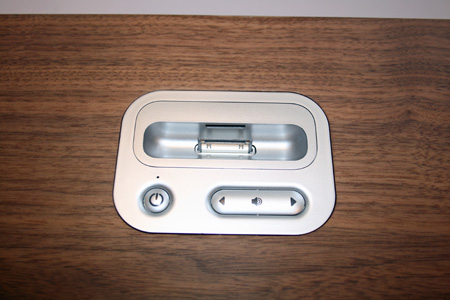 You can control the speaker system if you want through your iPod controls and the power/volume controls below the docking slot, but you'll get a much better experience if you kick your feet up and use the 14 function remote. It is easy to operate the system with the more basic remote controls. More advanced ones though, such as remotely scrolling through on-screen iPod menus or playlists, requires just a tiny bit of a learning curve.
Sound tests revealed a system as warm in music as it is in wood tones. The two 15 watt speakers put out great sound in the full spectrum range, and the fact there's a dual rear port design helps with the bass as well. Sound quality was great even at high volumes, with no levels of detectable distortion coming from the speakers. It should be noted you don't control volume through the iPod itself while it is docked in the Vers 2X – that is handled instead via the volume buttons on the unit or remote.
An iPod, while connected to the system, will charge its internal battery. There is no pass through capability though, so you won't be able to connect to a computer to sync with iTunes while plugged in. Power output of the Vers 2X, tested with a wattage meter, revealed a low five watts during usage and two watts when plugged in but not powered on. This is in part due to the more energy efficient Class D amplifier inside the unit.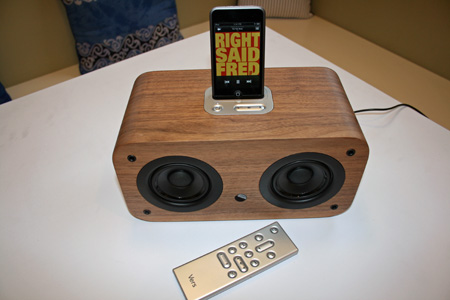 Other features of note on the Vers 2X include a removable front grill, 3.5 mm aux in and out and the fact the cabinet is hand crafted. The unit prices around $180 for the walnut, with prices varying for other types of wood cabinets.
The Final Word:
There's definitely a lot to like about the Vers 2X sound system. Rich sound, compact design, focused thought on making it a green product and an advanced function remote highlight the fact Sprout Creation did its due diligence in designing this right. The price also seems to be pretty spot on for such a great audio experience, at least as far as iPod speaker systems go. We would have liked to see a little less packaging material, recyclable or not, but otherwise found the Vers 2X to be a worthy audio accessory for your Apple portable media player.