Of late there has been this thing buzzing around the Internet and the media about an upcoming Apple product which will do for tablet computers what the iPod did for MP3 players and the iPhone did for mobile phones. After months of speculation and a frenzy of rumors in the last week or so, Apple finally today unveiled the iPad, its very unique spin on the marriage of a thin tablet design with iPod/iPhone functions. And yes, it has some solid green cred around the design as well.
Apple, striving to continue its position as a leader in more environmentally friendly computer products, has done quite a bit with the iPad to make it eco-focused. The company says that, among other things, each iPad enclosure will be made of recyclable aluminum and that it contains no brominated flame retardants as well as being completely PVC-free. The 9.7-inch display of this device, meanwhile, is backlit by an energy efficient LED and is mercury free as well as being made from arsenic-free glass.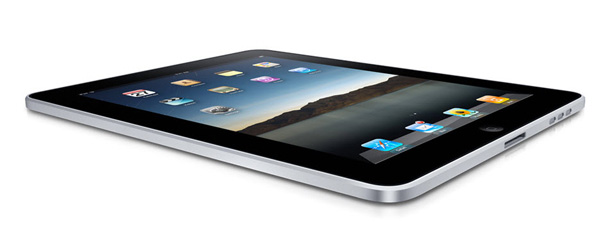 Battery wise, the iPad is said to have a battery life of up to 10 hours, depending upon usage patterns. This is due in part to the on-board, Apple A4 "next generation" system on a chip. It is also said that due to Apple's "advanced chemistry" and special adaptive charging technology the internal battery can be charged at least 1,000 times "without a significant decrease in battery capacity over a typical five year lifespan." Charging is handled via an included 10W power adapter or by connecting via USB to a host computer.
Apple has really gone and tossed a lot of features into this touchscreen device which measures just 0.5 inches thick and weighs just 1.5 pounds. It sports, for starters, a host of special applications designed just for the iPad which make use of Apple's touch technology for doing things like browsing Web sites, looking at digital photos, handling email, watching videos and listening to audio. iTunes support is built directly in so one can interface and use their existing iTunes collection,  as well as wirelessly connecting to the iTunes store to buy more.

Also of significant note – and perhaps a giant threat to ebook reader king Amazon and its Kindle – is the built-in iBooks app. This new offering from Apple connects directly to the company's iBookstore. Apple proudly states its new online bookstore will be "the best way to browse, buy and read books on a mobile device." Support will be offered out the gate from a variety of major and independent publishers and the special Apple touch technology will let one easily flip through pages of a downloaded e-book.
Productivity is also a focus of the iPad via an optional iWork productivity suite. This allows users to create documents, presentations with animations and transition and spreadsheets with charts, functions and formulas. Each of these three functions will be available as pay for downloads from the iTunes App Store. And speaking of apps, Apple mentioned as well that the iPad "runs almost all of the over 140,000 apps" currently available. This will allow for even greater functionality with this device.
There's a whole slew of other features as well. These include audio output via either built-in speakers or a headphone jack, horizontal or vertical viewing, USB syncing with iTunes and charging through one's computer, an on-screen keyboard, wireless connectivity options (Wi-Fi, 3G cellular, Bluetooth 2.1 +EDR), a fingerprint resistant coating on the screen, multi-language display support, "assisted" GPS via Wi-Fi/3G, that familiar old 30-pin dock connector on the bottom and an ambient light sensor. A few accessories are also being made available, including a keyboard dock for those who don't want to use the virtual keyboard, a protective case, a charging/syncing dock and a "camera connection kit" which lets you import photos and videos directly from a digital camera.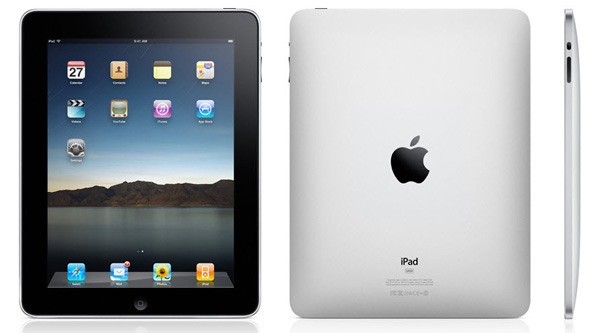 So what about pricing, availability and storage sizes? This is where it gets a little interesting, and perhaps a little confusing as well. It is mostly determined by storage size (based upon flash memory capacity) and what wireless options are built in (this latter also impacts availability – Wi-Fi only will be March, while Wi-Fi+3G will be April). This results in the following: 16GB (Wi-Fi) $499/ 16GB (Wi-Fi+3G) $629/ 32GB (Wi-Fi) $599/ 32 GB (Wi-Fi+3G) $729/ 64GB (Wi-Fi) $699/ 64GB (Wi-Fi+3G) $829. Those buying the 3G option will obviously also need a cellular data plan, which will be provided pre-paid by AT&T only. Two plan options will be available, according to Engadget, including a $14.99 a month for 250MB of wireless data transfer and $29.99 a month for unlimited transfer. One will not have to visit AT&T or Apple to activate the 3G option, as it can be handled all via the iPad. Free Wi-Fi access will also be available be AT&T wireless hotspots.