It's true, we may have poked fun at the Jumping Light kinetically-powered flashlight, but this concept might just have some serious potential. It's the 3C Skipping Rope, a concept design from Jooyong Kim and Sungkyung Kim that turns energy generated from this nostalgic childhood exercise "machine" into juice for all your essential gizmos, via rechargeable batteries.
Take a look at those sleek green and white handles. Not only do they fill up with rechargeable batteries, they provide information on your number of complete rotations, the number of calories you've burned (like a running machine),  a stop-watch, and the amount of charge you've provided to the batteries, via kinetic energy.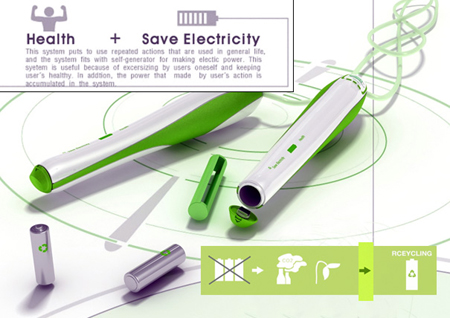 According to Yanko Design, the 3C Skipping Rope generates juice no matter which direction you're skipping, so you can work out like prize-fighter without worrying about compromising the amount of electricity you're producing. So when your flashlight, say, or remote-controlled robot or singing fish starts to wind down and look a little sad, all you've got to do to pump it up is jump up and burn some calories.