Is it an electric mountain bike or an electric motorcycle? Weighing in at just 118 pounds, the Comoto by Hirsch Design may have a bit of an identity crisis, but it certainly looks like fun to ride.
While the end-user of course will be the ultimate judge, the lightweight Comoto seems to take concerns about its performance and durability seriously. According to Green Autoblog, it makes use of an aircraft-grade T6 aluminum monocoque frame featuring twin flat panels that sandwich the electronics and battery pack; it's  capable of hitting a top speed of 40 miles per hour and achieves a range of over 30 miles per charge. (The Comoto takes two hours plugged into 20 Amps to reach full power again.)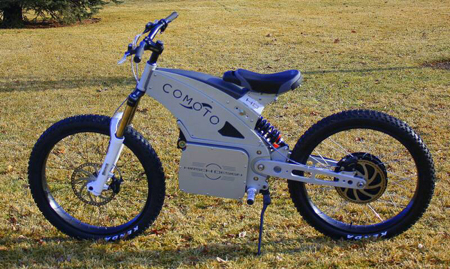 The 2010 Comoto features a brushless rear motor powered by a 72-Volt, 20 Ah lithium ion phosphate battery pack. Suspension is provided by a mono shock at the rear coupled with a Marzocchi fork with up to 180 mm of give. As an added bonus, according to the designer, the Comoto makes use of very little welding, minimizing threats to its structural integrity should you choose to catch some air in the great outdoors with those 26-inch mountain bike tires. No word yet on price.