Hmmm…let's see – so last time we checked on green patents and computer manufacturer Apple, they were noted for having secured one around a home energy management device. Cool, but not quite as interesting as another one mentioned today by Patently Apple – solar panels for media players. What media players could Apple possible have that would use something like that?
In all seriousness, one can now envision a day where Apple slaps solar panels on the back of iPhones and iPods to charge those internal batteries. The patent, first filed in August 2008 and now just approved, focuses around "methods, systems, and apparatuses for implementing circuitry that can be used to control multiple solar cells to generate power for a portable electronic device." The voltage generated, according to the patent filing, could then be "boosted to a value suitable for powering the portable electronic device and/or any of its individual components."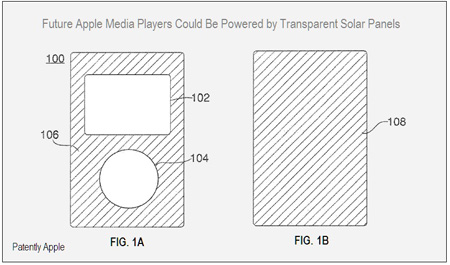 As GreenBeat points out, these solar panels would be transparent and integrated most likely into the backside of an Apple portable media player – though front side integration might be a possibility as well. It is said by Patently Apple that the system will work "with a regular battery to ensure that in times of complete darkness the media players will still be functional." It is also possible this solar system could be extended to other portable devices as well. Solar panel-backed MacBook anyone?