The upcoming and annual Consumer Electronics Show highlights a little in advance products it feels showcase top tier engineering and potential user value. These special consumer electronics are named "Design and Engineering Awards Honorees" and get extra promotion at CES in January. Green tech products, such as the just awarded mPower Emergency Illuminator, creep in to this unique mix often.
The mPower Emergency Illuminator, developed by mPhase Technologies, makes use of a special battery said to have a shelf life of at least 20 years. This battery from mPhase "eliminates power dissipation before initial activation" through an advanced process called electrowetting, which is "the ability to electronically manipulate the way liquids behave when in contact with a solid or porous surface." This amounts to something being called "reserve battery technology."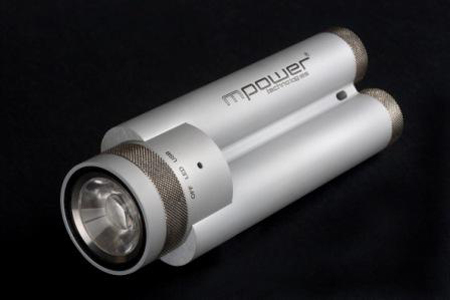 Features of this flashlight on super steroids include an instant-on functionality, "an intense beam of white light using a high-performance LED" and a USB connection so you can actually charge other electronic devices such as iPods and mobile phones. We'll be getting in touch with mPhase to see about an interview regarding this advanced battery technology, so stay tuned.
mPower Technologies [via press release]