Taxi companies around the country are, in some places, converting some of their cabs to hybrids such as the Prius. Only a couple though have gone all hybrid, with Arizona-based Clean Air Cab being the latest. This cab outfit, which launched in October, says it is "Arizona's first carbon negative taxicab service."
Clean Air Cab currently has a fleet of 26 2010 Toyota Priuses. The cab company said it finds the Prius to be much better of a choice then traditional Ford Crown Victorias used by competitors. The Prius reportedly emits 160 percent less emissions, while getting an extra 33 miles per gallon of gas. This is said to save almost 1,000 miles per gallon across the Clean Air Cab fleet.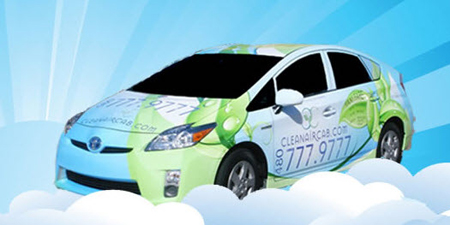 This cab service, based out of Mesa and Tempe, will further offset the use of Priuses in its fleet by "subsidizing the planting 10 rain forest trees monthly for each cab in service." Clean Air Cab, despite the higher initial costs of buying a Prius, is keeping its rates competitive with other taxi competitors in the local area.
Clean Air Cab [via GreenBiz.com]