Three-Man London Tech Start-up Scores a Major Hit On Kickstarter.com With "SOLARTAB", A Solar Charger for Tablets and Phones
Combine Efficient Green Energy with Appealing Design for Unique Product
(CurrentMESS LLC; London, UK – April 7, 2014) Small London tech startup CurrentMESS unveiled their brainchild gadget, the "Solartab", on kickstarter.com on Wednesday evening (April 2nd). The trio were hoping to raise 30 000 US dollars over the course of a month via the popular American crowdfunding website – just enough to start production of their eco-friendly device.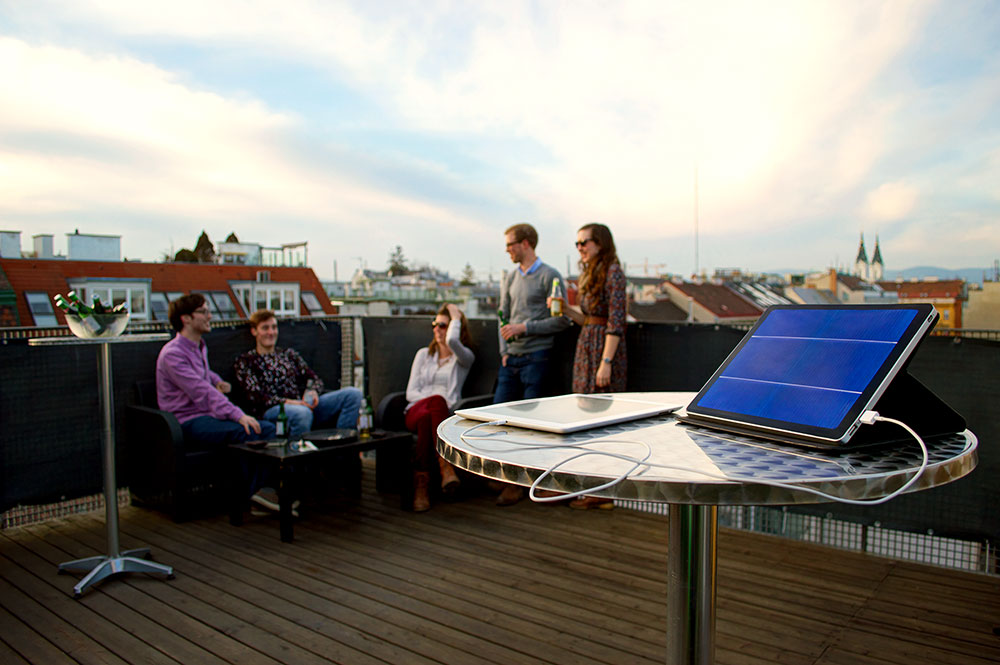 The public responded with roaring enthusiasm: Today, just a few days into its funding period, the Solartab is already over 80 % on its way to meet the funding goal.
The multinational trio, consisting of Simon Methi, Eskil Vestre and Mathias Einberger, knew that they might be on to something big with their inventive solar charger, a far more powerful and better looking alternative to existing products currently on the market. Yet the response on the crowdfunding platform so far has been even better than anything they dared hope for.
"The response has been incredible. We feel deeply privileged to have so many people out there who believe in us and our product", says Methi.
The Solartab is a high quality solar charger with attractive Scandinavian design and an efficient solar panel, which lets it users charge smartphones, and even tablets, on the go.
Featuring a solar panel the size of an iPad, the Solartab lets its users charge any mobile device using green, sun-fueled energy. And even more impressively, iPad enthusiasts can charge their beloved touch-screen gadget even while they're listening to their favorite summer tune, or browsing the Internet.
"We wanted to create a really powerful charger that people would actually want to use, all the time", says Einberger. "Solar power should never be a mere gimmick – on the contrary, we believe it's the future of power consumption!"
The enthusiastic young team may very well be on to something. Forward-thinking corporations are currently investing heavily in green energy alternatives, and Google alone have recently made wind and solar investments totaling more than $1 billion.
Using Methi, Vestre and Einberger's new breed of solar charger, keeping energy-hungry smartphones or tablets going all day at the beach, music festivals or picnics in the park is easier than ever. The smart-looking device is also equipped with a high capacity internal battery, which means you can store solar power for later – and give any tablet another full charge after sunset.
According to the team, as long as the sun is out, the Solartab will always charge at maximum efficiency. To keep this promise, they not only increased the solar panel's size way beyond what you'll find on the average portable solar charger on the market today, but also included an inventive built-in cover.
The unique cover not only gives the Solartab a stunning and nostalgic look, but also works as a stand for the solar panel, which lets users angle the solar panel in three different positions. After adjusting the angle to the sun's current position, all that's left to do is plug in any smartphone or tablet and let nature take care of the rest.
Oh, and the cover will also protect the Solartab while it's tucked away in bags, on the way between beaches and parks. Making sure the charger's premium look won't be compromised with scratches or stains.
Making green energy truly accessible to design-conscious, young people with an active lifestyle, it's no wonder that the Solartab team have struck crowdfunding gold on kickstarter.com.
The Solartab's Kickstarter campaign is available until April 30 on https://www.kickstarter.com/projects/solartab/solartab-the-premium-solar-charger.
Links
About CurrentMESS
CurrentMESS is a three-person startup consisting of Simon Methi, Mathias Einberger and Eskil Vestre. The multinational trio is currently based in London, UK and Shenzhen, China.
Press contact 
Solartab, a product by CurrentMESS LLC.
Press contact: Eskil Vestre