Best Solar Panel Installation Companies in Utah
Finding the Best Utah Solar Panel Installers
Find the best Utah solar company for your needs from our directory of local solar panel installers below or save time and get free quotes from multiple Utah installers to find out how you can go solar today.
How Much Do Solar Panels Cost in Utah?
Do you want to know how much solar panels may cost you to buy and install in Utah?
Use our simple solar panel cost calculator below to get an estimate of solar installation costs in Utah.
---
Compare Utah Solar Panel Installers By City
How to Find the Best Solar Companies in Utah
With amazing spots like Zion National Park and Arches, Utah is America's desert playground.
And with that desert comes an excellent opportunity for some solar energy!
Utah ranks 10th in the US for most solar, boasting 1,700 MW – enough to power about 240,000 homes.
A whopping 6% of all the state's electricity comes from solar.
With that high concentration of solar, Utah homeowners have a large pool of installers to choose from as well, with 140 solar companies (including manufacturers) and just under 80 installers working in the state.
With so many solar companies, the best way to get started on your own solar project is to get quotes from local Utah installers from our trusted partner marketplace:
Average Home Installation Costs in Utah
Rooftop solar is actually pretty affordable in Utah. Just like any home improvement project, larger projects require more cash. The average price for rooftop solar in Utah is about $3.05 per watt. That's lower than Colorado next door and just 2% higher than the average US cost of $2.98 per watt.
On top of these installation prices, Utah homeowners are also eligible for both the federal and state tax credits. All of this helps to lower your installation costs and increase your savings.
While Utah's average utility prices are pretty low right now, they are increasing at an average of 3.4% per year, 30% faster than the national average. By installing solar and producing your own electricity, you're 'locking in' your own solar electricity prices and avoiding those quickly increasing utility prices.
Here's how the costs and savings add up for some common installation sizes:
| System Size | $/watt Cost | Total Cost | Total Cost (with ITC) | Total Savings | Return on Investment |
| --- | --- | --- | --- | --- | --- |
| Small (4 kW) | $3.05 per watt | $12,200 | $6,540 | $15,952 | 8% |
| Medium (6 kW) | $3.05 per watt | $18,300 | $10,810 | $22,928 | 6% |
| Large (10 kW) | $3.05 per watt | $40,500 | $19,350 | $36,880 | 5% |
You'll see that larger installation sizes offer much higher savings over the life of the installation, but they also produce a slightly lower return on your investment, which hovers around an average stock return.
Thanks to the state's tax credit and Utah's quickly increasing utility rates, installing solar in Utah is a sound, but slow, financial investment.
The 3 Best Solar Installation Companies in Utah
To find the best solar companies in Utah, we looked at customer service, equipment offerings, costs reported by customers, and experience. We focused in on smaller installers, preferably those established in Utah.
Here's our top three choices for best solar installation companies in Utah, focusing on value, customer service, and warranties:
Solar Wholesale: Best Value

Solcius: Best Customer Service

Custom Solar: Best Warranties
Solar Wholesale: Best Value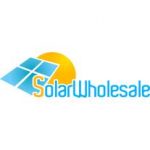 Quick Look: Great prices, installed 300 systems, established in 2016
Founded in 2016, Solar Wholesale isn't the most experienced installer on our list. While they've installed hundreds of rooftop systems, it's still a far cry from our other two top picks. However, it's certainly enough to know what they're doing and Solar Wholesale offers some of the best prices in the state.
They're able to keep costs low because they don't have a sales team, they buy in bulk, and on top of installing systems that they've sold themselves, they also work as a 3rd-party installer for other companies. All this, Solar Wholesale claims, keeps their costs lower than their competitors. In fact, on their website Solar Wholesale advertises they install for less than $3/watt, which is already cheaper than the average install in Utah.
Homeowners actually agree with Solar Wholesale's pricing claims, with several customers noting that Solar Wholesale's estimates were the lowest of all the solar companies they contacted.
Even with these prices though, the company is installing SolarEdge inverters – some of the most efficient inverters on the market – and offers a 10-year workmanship warranty, which is on the higher end in Utah. Beyond the low prices, homeowners also praise the company's no-nonsense approach to sales.
Solar Wholesale is based in West Jordan and installs in Utah, Idaho, and Oregon. If you're looking for a low-cost solar option that doesn't skimp on quality or service, Solar Wholesale is a great option.
Solcius: Best Customer Service

Quick Look: Excellent customer reviews, installed 6000 systems, established in 2015
Solcius is the biggest installer on our list. While they've only been around since 2015, in that time they've installed an incredible 6,000 residential solar systems and expanded from home state Arizona to 8 states, including Utah.
Solcius famously advertises that they can often install systems within just a week of signing the agreement (provided there's no hang ups from a nosy HOA or slow building department) – an insanely quick turnaround time. Homeowners love Solcius and report that the installer is indeed as fast as they claim they are. Installations are lightning fast and installers are professional.
After the installation is complete, Solcius will monitor your production for 90 days to ensure everything is working properly. After that, they'll show you what to do and let you take care of it yourself. Beyond the equipment warranties, they offer a 10-year workmanship warranty for your roof, which is on par with other reputable installers working in Utah.
In the end, Solcius is a great option if you want the fastest installation time while still receiving excellent customer service.
Custom Solar: Best Warranties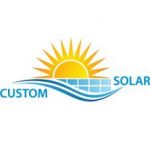 Quick Look: Sunpower dealer, installed 3000 systems, established in 1987
Established in 1987 and headquartered in Sterling, Custom Solar is the oldest installer on our list. They're also the only installer that focuses exclusively on Utah, installing across the state. They've installed over 3,000 residential solar installations in their long history, so they're well-experienced.
They're an authorized dealer of Sunpower, which officially makes the most efficient solar panels on the market today, typically about 20% more efficient than standard panels most homeowners install.
Sunpower also offers some of the longest panel warranties on the market. While other manufacturers offer 10-year or 12-year product warranties, Sunpower extends that to a full 25-years. Their production warranties are also some of the highest in the industry as well, ensuring you'll get the most electricity possible over the lifetime of the panels.
Beyond the Sunpower equipment warranties, Custom Solar offers a 10-year workmanship warranty for your roof, like the other two companies above.
Customers report that Custom Solar provides attentive, professional service and installs quality systems. If you're looking for high-quality equipment with long-term warranties, Custom Solar's Sunpower panels are a great option, just be ready to pay the additional cost these premium panels require.
How to Choose a Solar Installer in Utah
Choosing a solar installer is just like with any other home project. Talk to multiple installers for estimates and make sure you're getting quality work by checking their licenses, reviewing their offerings, and reading company reviews.
Compare Quotes
Talking to and receiving quotes from multiple installers is the single easiest way to ensure you get the best price for your rooftop solar. You'll be able to compare the different costs, equipment, energy production estimates, and savings.
Not every installer is created equal, and some might design a more efficient installation, allowing you to see an even higher production at the same price, which helps you recoup your investment even faster and start saving money.
With so many panel and inverter options, different installers in your area are bound to offer different equipment with varying costs and efficiency. By comparing the different quotes, you'll be able to gauge the cost-effectiveness of the different options.
Licenses and
Accreditation
Utah requires all solar installers to be a licensed contractor with the state. Installers can hold one of three licenses:
S200 (Electrical Contractor)

S201 (Residential Electrical Contractor)

S202 (Solar PV License)
To become a licensed solar contractor, the installer must have at least two years of previous experience working under another licensed solar contractor as well as NABCEP (North American Board of Certified Energy Practitioners) certification, which requires dozens of hours of training and testing.
Overall, Utah's licensing system is pretty thorough. Many states don't require a NABCEP certification or any other solar training. NABCEP certification is the industry standard, so with this requirement you can rest assured you're getting a well-designed and well-installed solar installation on your roof.
If you're interested in installing thermal solar as well (for your hot water or pool), your installer will also need the S215 (Solar Thermal Contractor) license.
Warranties
Unlike some states, Utah does not require solar installers to offer a workmanship warranty, which protects homeowners from damage, like roof leaks, due to poorly installed equipment. As such, workmanship warranties are rare in the state, but all our top picks above offer a 10-year workmanship warranty.
Be sure to ask if your installer offers a workmanship warranty as well as exactly what it covers, with specific focus on roof leaks, as they're one of the more common problems with solar installations and some installers offer separate, shorter roof penetration warranties.
Of course, your solar panels and inverter are protected under a separate manufacturer's warranty, which can last between 10 and 25 years depending on the equipment. Your installer should bring up all warranty information – both equipment and workmanship – during your initial sales talks.
Financing Options in Utah
Utah homeowners can finance their installation in cash, loan, or PPA.
Cash
If your bank account can handle it, paying in cash offers you the biggest return on your investment. First, you avoid any leasing fees or loan interest that typically adds thousands to your total investment. Second, as the owner of the installation, you're eligible for the federal and state income tax credits. (Of course, you're still eligible for these tax incentives if you finance with a loan, but that's not the case with a PPA.)
The only downside to a cash payment is the money that's tied up in your solar installation. But if you consider it a long-term financial investment, akin to stocks or bonds, it's really not out of the ordinary. You'll recoup your investment in 10 year or so, at which point you'll start saving well over $1,000 each year (depending on your installation size, of course).
Loans
If paying $12k to $30k for your installation is a bit far-fetched, consider taking out a loan for your installation. Your total lifetime savings will be lower, due to the interest payments, but it can still be financially worthwhile if you find a loan with low-interest rates and short terms.
There are many lenders out there today that specialize in green energy projects and installers typically have one to three with whom they've partnered. Also reach out to local credit unions, as some offer special low-interest loans for solar projects and you can use a HELOC or Home Equity Loan to pay for your installation as well. Capital Community Bank in Provo, for example, offers special solar loans with flexible terms and competitive rates.
Just like your installers, reach out to several lenders to find the best possible interest rates.The less you spend on interest, the higher your overall savings will be, so it pays to shop around.
Power Purchase Agreements
Utah also allows solar companies to offer a financing mechanism called power purchase agreements, or PPAs. Similar to a solar lease, your solar company will install solar on your roof, but retain ownership of the system. You'll then pay your solar company for each kilowatt-hour of electricity the installation produces. In the summer, when the installation is producing at max capacity, you'll pay more. In the winter, you'll pay less.
Leases and PPAs jumpstarted the residential solar industry in the late 2000s, since many homeowners couldn't foot the expensive installation costs themselves. Today, Sunrun and Vivint (which calls Utah home) still rely on solar leases and PPAs for their main business, but more and more homeowners are moving towards financing in cash or loan, as they're typically a better financial investment.
You can still save money with a PPA or lease though. And of course the energy produced is clean and renewable no matter what financing you choose. Leases and PPAs are also the most non-committal, as you don't own the system and haven't put any of your own hard-earned cash into the pot. Still if you're after max savings, better to pay in cash or with a loan.
Financial Incentives, rebates and tax credits
Utah homeowners are eligible for both federal and state income tax credits.
Federal Tax Credit
The federal tax credit currently 'discounts' 30% of the cost of your solar system by knocking off that amount on the current year's taxes. That brings a $20,000 installation, down to just $14,000!
Be sure to talk to your tax specialist before counting on this credit though, as it is non-refundable. But, it can be broken up over several years if you don't end up owing that much in taxes.
This is the single biggest incentive that you'll find in Utah for going solar, and you should remember that this credit might not be around forever. At the end of 2019, it will go from 30% to 26%, and then all the way down to 22% before going away completely. Be sure to act quickly to earn this big credit!
State Tax Credit
Utah homeowners are eligible for the state's renewable energy systems personal tax credit, which allows you to claim 25% of your solar costs. While the maximum amount used to be a hefty $2,000, the credit is currently phasing out and will expire in 2021. Here's how the credits will run over the next few years:
2019: $1,200 max

2021: $800 max

2021: $400 max
You'll probably max out your credit before you're able to cover the full 25% of your costs, but it's certainly a useful incentive.
Like the federal tax credit, this state tax credit is also non-refundable, so while you can reduce your tax bill to $0 with this credit, you cannot get money back. Fortunately, you are able to carry the credit forward for up to four years if you need to.
Utah Solar Policy Information
In 2017, the Public Service Commission of Utah (or PSC, the organization in charge of regulating utilities) made a settlement with PacifiCorp (known as Rocky Mountain Power in Utah, the state's largest utility) for new net metering regulations.
While Utah solar homeowners previously received a one-to-one credit for all solar energy they send to the grid (if you pay the utility $0.10/kWh, they'll credit you $0.10/kWh for your excess electricity), that's not the case anymore.
First, if you're already a net metered customer in Utah, your agreement isn't going anywhere. You're grandfathered in until 2035.
Second, the PSC set up a 'transition period' that lasts until 2032, at which time they'll set up a new net metering program. During this transition period, residential installations are limited to 25 kW (under which 99% of residential systems fall) with a cumulative limit of 170 MW for residential solar – equal to about 25,000 homes.
Currently, net metered customers receive credits at $0.092 per kWh, slightly less than retail rate. All unused credits expire in March each year. Overall, it's a pretty good system, but it could be better.
Electric co-ops don't follow these same rules. They offer credits based on their avoided cost (how much they'd pay to produce the same electricity, typically around $0.03 per kWh) and a couple of municipalities (St George and Murray) have their own separate policies.
As of 2008, Utah has given permission to smaller electric co-ops that serve fewer than 1,000 people to discontinue net metering service. Always check with your utility to find out how their net metering program works.
In Utah, it is easy and straightforward to connect your array to your local utility and they don't make you jump through many hoops to do so. Systems under 25 kW aren't required to install an external disconnect switch or carry additional insurance for your system. There is also no lengthy application process that could cause delays in getting you up and running!
With the two tax credits, quickly increasing utility prices, and sunny skies, going solar in Utah can be a great decision. And the best solar companies in Utah can help you figure out the best financing and equipment to make the investment pay out as much as possible over the next 20 years.
Ready to get started? Click here and see if solar panels are worth it for your home.
Compare Utah Solar Panel Installers
View our list of Utah solar panel installers below or get quotes from multiple companies to find the best deal.
Are Solar Panels a Good Investment in 2021?
That is a great question! In a word, absolutely. In fact, with installation costs dropping over 60% since 2010, solar is a better investment than ever before!
And while the price of solar technology continues to drop, the price of utility electricity continues to go up. In the last 15 years, utility rates have increased an average of 2.9% each year.
That is actually the main crux of solar savings. You pay a one-time fee (ie your installation cost) to install solar and you are then able to avoid those utility price hikes - as well as the current high utility prices - for the next 25 years.
Obviously, some states have much higher utility rates than in other states, so solar savings will be greatest in those states, but that doesn't mean it's a bad decision in other areas.
Generally speaking, savings follows utility costs, but on average the lifetime solar savings for many homeowners is between $12k and $32k. That is a lot of money saved!
How much can you save by installing solar panels on your home? It is easy to find out. Simply get a free quote and see how much you can save by going solar today!