Best Solar Panel Installation Companies in Georgia
Finding the Best Georgia Solar Panel Installers
Find the best Georgia solar company for your needs from our directory of local solar panel installers below or save time and get free quotes from multiple Georgia installers to find out how you can go solar today.
How Much Do Solar Panels Cost in Georgia?
Do you want to know how much solar panels may cost you to buy and install in Georgia?
Use our simple solar panel cost calculator below to get an estimate of solar installation costs in Georgia.
---
Compare Georgia Solar Panel Installers By City
How to Find the Best Solar Companies in Georgia
With no net metering and few incentives, Georgia homeowners looking to save money by installing solar need to choose financing and system size wisely.
But the best solar companies in Georgia can help you figure out exactly how to make your solar installation work for you and your bank account over the next 25 years.
Georgia is a place of contradiction.
There's quite a bit of rooftop solar in the state – almost 1,600 MW (enough to power about 266,000 homes) – but there is no statewide net metering and certainly no state-level incentives, both of which are generally a prerequisite to a healthy, growing solar industry.
But even without these incentives, installing solar in Georgia can still be a strong long-term investment, as long as you choose your financing wisely and find the installer that offers the most value.
There are currently about 110 installers working in the Georgia solar industry, so you'll want to spend some time finding the right installer for your home.
The easiest way to is to reach out to multiple installers via our trusted marketplace. Click here to get multiple quotes from Georgia solar panel installers for free.
Average Georgia home solar installation costs
Rooftop solar in Georgia costs about $2.90 per watt before incentives, which is about 3% less than the national average. Since Georgia homeowners don't have many other incentives to help drop the cost of going solar, low installation costs like this are extremely important to your bottom line.
Without any mandatory net metering, most utilities will still purchase your solar electricity, but at a much lower rate that you pay. Even still, you can still come out ahead over the long run.
Here's a savings estimates for three common installation sizes, assuming you send about 30% of all the electricity you produce to the grid. We've also accounted for panel wear and tear, operations and maintenance costs, and estimated utility rate increases over the life of the installation.
| System Size | $/watt Cost | Total Installation Cost (post-ITC) | Lifetime Solar Savings |
| --- | --- | --- | --- |
| 6 kW | $2.90 per watt | $15,180 | $8,580 |
| 9 kW | $2.90 per watt | $22,770 | $12,870 |
| 12 kW | $2.90 per watt | $30,360 | $17,159 |
You'll see that even without net metering or any incentives beyond the federal Investment Tax Credit, a 6 kW installation can still save you around $8,500 over its 25-year lifespan. As your installation increases in size, that lifetime savings increases as well.
Because the state of Georgia doesn't require utilities to offer net metering, each utility can decide if and how they want to compensate solar homeowners for any excess electricity they send to the grid. As such, savings from one household to the next can vary much more widely than in other states that require utilities to net metering credits for solar homeowners. Your installer can provide a much more accurate savings estimate based on your own energy use and your utility's rates.
The 3 best solar installation companies in Georgia
While Georgia doesn't boast quite as many solar installers as solar havens like California or North Carolina, you've still got over 100 companies to choose from. Most solar installers in Georgia are small, hands-on businesses, which usually means more attentive customer service and even lower installation costs.
We looked at dozens of installers' experience, customer reviews, and warranty information and picked out the three best installers we found. Each offers a little extra than most, whether it's near-perfect customer service, above-average expertise, or a great long-term warranty:
Alternative Energy Southeast: Best Customer Experience
Solar Plus: Most Experienced
Solar SME: Best Warranty
Alternative Energy Southeast: Best Customer Experience

AES isn't the biggest installer on our list, but they more than make up for their small size with a reputation for excellent customer service and a team of seasoned, experienced employees. AES was founded in 2007 by a certified Master Electrician and NABCEP-certified solar installer, so knowledge and experience has been wrapped into the company since Day 1.
Since 2007, AES has installed 180 residential installations and 25 commercial installations, making them quite small compared to other companies outside Georgia, many of which have installed 2,000+ residential systems.
But don't be scared away. AES customer reviews are second to none. Almost all of the homeowners they've worked with praise their professionalism, ethical sales process, and caring attitude. Many homeowners report that AES provides great service even after the installation is complete – something solar installers with bottom-line thinking often fail to provide. Beyond the excellent customer reviews, the BBB also gives AES an A+.
The installer is based in Lilburn, GA, and installs in Georgia and South Carolina. They offer a 5 year workmanship warranty (standard in Georgia), but you can choose to extend the parts and labor warranty to 20 years.
Beyond solar, AES also installs combined heat & power (CHP) systems, efficiency upgrades, solar hot water, space heating, and energy storage.
If you're looking for an attentive, low-stress installation process, AES is our top recommendation.
Solar Plus: Most Experienced

Solar Plus was founded in 2016, but since then has installed over 700 residential and 40 commercial installations. They are based in Atlanta and will install within a four-hour radius of Atlanta, including in neighboring Alabama, South Carolina, and Tennessee.
Solar Plus' owner is a NABCEP-certified installer and a licensed Electrical Contractor with 8+ years installing solar. As a small company, the owner is also the general project manager and supervises all installations on-site.
With so many installations under their foot (even with their short history) and an owner that is both deeply experienced and deeply involved in each project, you'll be in good hands with Solar Plus. Customers praise the owner's dedication and quick communication as well as the entire installation crew's professionalism.
Solar Plus installs Enphase microinverters, some of the most efficient and best-warrantied inverters on the market, as well as batteries from German manufacturer sonnen and transparent panels from Onyx Solar.
Like AES above, Solar Plus offers a standard 5-year workmanship warranty on top of any equipment warranties. Solar Plus is our top choice for those homeowners looking for the most experienced local installer you can find.
Solar SME: Best Warranty

Almost all installers in Georgia offer a 5-year workmanship warranty, but if you're looking for something longer, check out Solar SME.
Solar SME doubles down on the warranty length, offering 10-year workmanship warranties as well as 25-year warranties for all panels and inverters. Panel and inverter warranties typically run between 12 and 25 years depending on the equipment, so Solar SME could be adding 10 years or more to your potential equipment warranty.
Workmanship warranties are an important consideration for any homeowner. Solar panels are bolted to your roof rafters through your shingles, so water leaking is a possibility if the hardware isn't installed properly. A workmanship warranty protects against water damage and other damage that could happen during the installation process. As with any warranty, the longer your workmanship warranty is, the better!
Founded in 2011, Solar SME has installed 1,800 residential rooftop solar systems and 26 commercial systems. Unlike the other companies on our list, Solar SME isn't based in Georgia. They are actually based in Texas, but have an office in Fayetteville, GA as well as 7 other states.
A small minority of homeowners has reported receiving poor support from sales staff (though not necessarily at the Georgia branch) and Solar SME's reviews aren't quite as good as the others on our list. However, the company's reviews are still miles ahead of most nation-wide companies, so if you're looking for the longest warranty you can get for your rooftop installation, Solar SME should be high on your list.
How to Choose a Solar Installer in Georgia
There are two key factors to finding the best solar installer: experience and value. You want the most knowledgeable, experienced installer you can find that will install not the cheapest installation, but the installation with the best value.
Compare quotes
Even if your neighbor swears by their solar installer, your best course of action is to always reach out to multiple installers for estimates. This gives you a much better context to assess cost and savings, but also greater access to more equipment and financing options.
Not all installers work with the same lenders or install the same equipment. Some equipment is more efficient or may offer a better warranty than others. Without talking to multiple installers, you might miss a great option!
You'll also benefit from casting a wide net if you're looking to finance your installation with a loan. There are many specialty solar lender out there, so don't just assume you'll get the same interest rate from every lender. Installers typically have a lender or two they like to work with, so talking to multiple installers is the very first step in finding the absolute best financing for you.
Licenses
The state of Georgia treats solar installations just like any other electrical work, so installers only need to be a licensed electrical contractor. As such, any installer should be able to install a safe solar system. However, simply having an electrician's license doesn't mean that every installer understands the nuances of solar design. That's why reading reviews on each installer's experience, and discussing equipment and design options with your potential installers, is so important.
Georgia also requires solar installers to offer a minimum workmanship warranty of 5 years, so any installer that offers a workmanship warranty that's longer than five years is going above and beyond.
Costs
With no statewide net metering to help shorten your return on investment, your installation costs become even more important to your overall savings. Thankfully, Georgia homeowners enjoy pretty low installation costs. However, those costs can differ from installer to installer and can quickly increase if you choose to install premium panels or inverters.
We can't stress enough how important it is to talk to multiple installers. Just an increase of $0.15/watt can drastically increase your overall costs:
6 kW installation @ $2.90 per watt: $17,400
6 kW installation @ $3.05 per watt: $18,300
You can see that you'll actually end up spending an extra $900 on an average-sized system if your installer charges just $0.15/watt more than the average. It pays to talk to multiple installers and find the best deal!
Financing options in Georgia
The state of Georgia doesn't allow solar leases or PPAs, so you'll either need to pay for your installation in cash or via a loan.
Cash
Paying for your installation in cash allows you to see the largest, though not the fastest, return on your investment. As the owner, you'll directly benefit from the federal ITC to lower your expenses during that first year. But you'll still likely need to fork out between $9k and $30k for your installation – not an easy task for most of us.
While your cash will be tied up while you recoup those costs via energy savings, you'll still see a decent return on your investment over the 25-year lifespan of your solar installation.
Loan
If you don't want to spend that much money on your installation upfront, take a look at loans. With no net metering or incentives beyond the federal ITC, you'll need to be extra careful to make sure you get the lowest interest rate possible. But if you find the right loan, you can still save some cash, albeit a small amount, by installing solar in Georgia.
Credit unions often offer special low-interest loans for solar installations or encourage homeowners to use a Home Equity Line of Credit (HELOC) or Home Equity Loan (HEL) to pay for the installation. Some utilities, like Jackson EMC discussed below, even offer solar loans themselves, so don't forget to call up your own utility.
Lastly, solar installers themselves typically have a preferred lender. These lenders specify in solar and other clean energy technology, like solar water heating or efficiency upgrades, and can offer good interest rates.
Of course, no company or credit union is the same, so be sure to shop around. And don't forget to make sure all the long-term cost and savings estimates add up correctly!
Financial Incentives, rebates and tax credits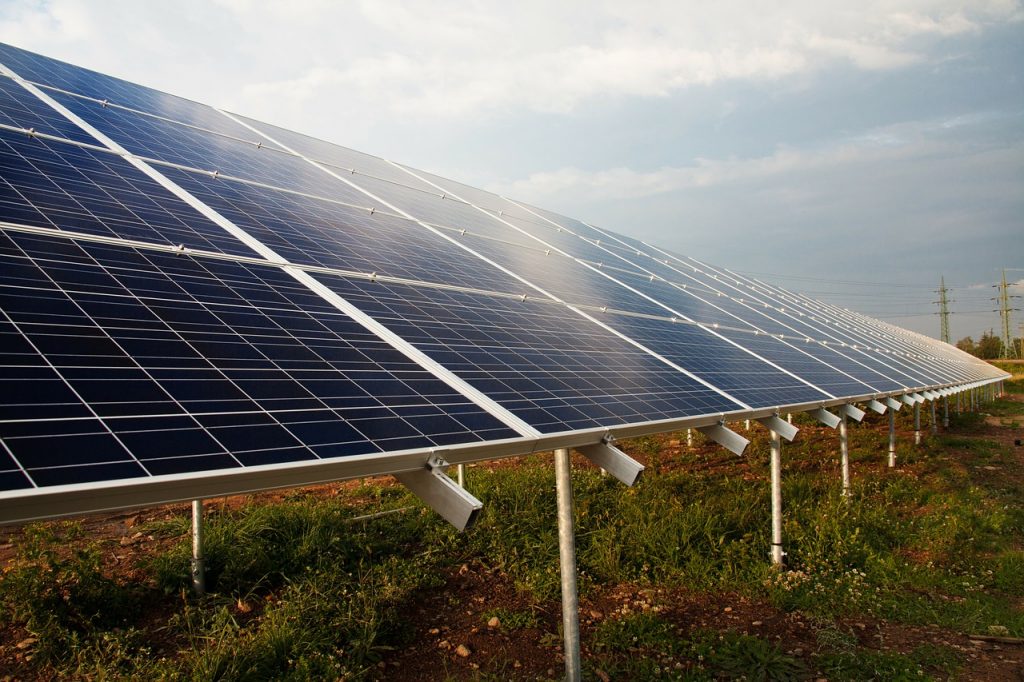 While other states offer sales tax exemptions, state income tax credits, or property tax exemptions for homeowners installing solar, that's just not the case in Georgia. This southern state offers none of these incentives, but Georgia homeowners can still take advantage of the federal Solar Investment Tax Credit, which can knock 30% off your total costs and is the best solar incentive available today, regardless of what state you live.
Federal Tax Credit
All Georgia homeowners that finance their installation via cash or loan are eligible for the federal income tax credit, officially known as the Solar Investment Tax Credit (or ITC). In a bid to help curb emissions, the federal government will give you a tax credit that's worth 30% of the cost of your installation. So if you spent $20,000, you could claim a $6,000 credit on your next tax return.
The credit is non-refundable, but if you don't owe enough in a single year, you can break the total into smaller chunks and claim a portion over several years.
This is the single biggest financial incentive in the country no matter what state you are in, and unlike other incentives, there's no cap on the amount you can claim.
The full 30% credit will begin phasing out at the end of 2019, so you better act fast if you want to take advantage. In 2021, the credit drops to 26%. In 2021, it drops to 22% before permanently ending the following year.
Local Rebates
Only two utilities offer rebates for rooftop solar. Central Georgia EMC and Jackson Electric both offer rebates of $450 per kW, with a max of $4,500. If you're a customer of one of these small electric coops, you could see a huge drop in costs thanks to these great incentives.
Jackson EMC also offers loans specifically for solar installations and solar hot water, so if you're a customer, give them a call to see what rates you're eligible for.
Georgia State Solar Policy Information
The most important policy for solar homeowners is a state's net metering regulations, which stipulate how utilities reimburse homeowners for any solar electricity the homeowner produces, but doesn't use and is ultimately sent to the grid to be used elsewhere.
True net metering means a utility offers retail rate (ie, if you pay $0.13 per kWh, the utility gives you $0.13 per kWh) for all solar electricity sent to the grid.
Unfortunately, Georgia's net metering is woefully weak. In fact, there is no net metering. State law allows utilities to offer net metering, but it doesn't require net metering like other states. Instead, utilities are left to decide if and how they want to compensate solar homeowners.
As such, net metering as we know it (with full retail rate credits) really doesn't exist in Georgia. Georgia Power, the state's largest utility, will actually purchase your excess solar electricity, but only at their 'avoided cost', which is typically around $0.04 per kWh – about a quarter of retail rates. It's certainly better than nothing, but can affect your bottom line if you don't estimate your costs and savings accurately. (Have we mentioned how important it is to get estimates from multiple installers?)
Even without 'official' net metering, installing rooftop solar in Georgia can still be worthwhile. It simply means Georgia homeowners need longer to recoup the initial investment and total savings will be smaller. But your solar electricity is just as clean, pure, and earth-friendly as anywhere else, and that alone is a huge step.
Ready to go solar? Get multiple free quotes from Georgia solar panel installers and see if solar is right for you.
Compare Georgia Solar Panel Installers
View our list of Georgia solar panel installers below or get quotes from multiple companies to find the best deal.
Are Solar Panels a Good Investment in 2021?
That is a great question! In a word, absolutely. In fact, with installation costs dropping over 60% since 2010, solar is a better investment than ever before!
And while the price of solar technology continues to drop, the price of utility electricity continues to go up. In the last 15 years, utility rates have increased an average of 2.9% each year.
That is actually the main crux of solar savings. You pay a one-time fee (ie your installation cost) to install solar and you are then able to avoid those utility price hikes - as well as the current high utility prices - for the next 25 years.
Obviously, some states have much higher utility rates than in other states, so solar savings will be greatest in those states, but that doesn't mean it's a bad decision in other areas.
Generally speaking, savings follows utility costs, but on average the lifetime solar savings for many homeowners is between $12k and $32k. That is a lot of money saved!
How much can you save by installing solar panels on your home? It is easy to find out. Simply get a free quote and see how much you can save by going solar today!