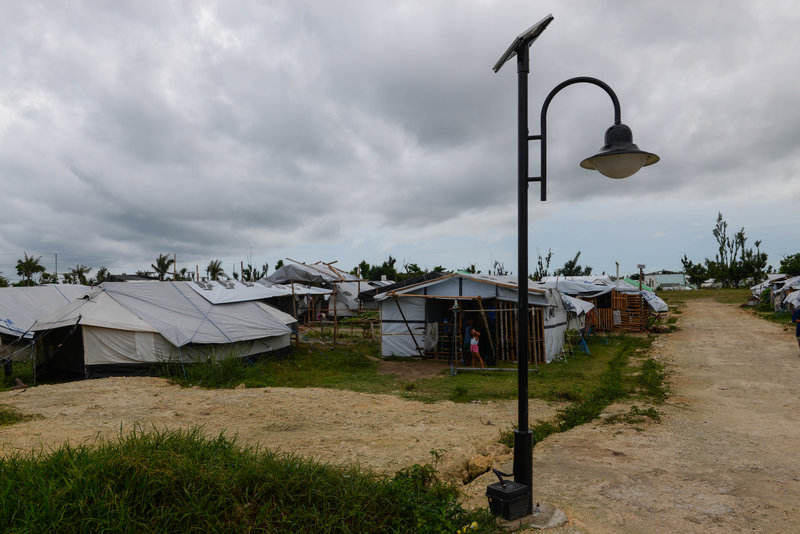 Refugees struggle to maintain a sense of normalcy while living in temporary camps far from home. By partnering with the United Nations and funding renewable energy projects for refugee camps, the IKEA foundation is helping some refugees to see a brighter future.
As of 2014, there were at least 13 million people in the world who qualified as refugees or displaced persons. They are displaced for different reasons – war, famine, natural disasters – but their needs are similar. Food, clean water, a safe place to sleep, and electricity.  Residents of refugee camps worldwide say that a lack of electricity is one of the biggest everyday challenges they face.
The IKEA Foundation, working with the United Nations Refugee Agency (UNHCR), is trying to help make refugee camps safer and more comfortable for those who must live there. IKEA is UNHCR's biggest private sector partner, and they have already raised over 18 million Euros for global refugee support with their Brighter Lives for Refugees campaign, providing shelter and education to families and children living in refugee camps worldwide. But shelter and education can only go so far without electricity behind them, so the next phase of the Brighter Lives campaign involves the construction of a power plant.
A Solar Farm for Jordan
During November and December of 2015, the IKEA foundation donated 1 Euro to UNHCR from the sale of every LED bulb or lighting product sold on the IKEA website or in participating IKEA stores. The money raised by the LED campaign will support the construction of a new solar farm for the Azraq refugee camp in Jordan, which currently provides a safe temporary community for 27,000 Syrian men, women, and children fleeing the violent conflict in their homeland.
Construction on the solar farm will begin over the winter, and it is expected to be producing power for Azraq's shelters by March or April of 2016. It will provide local jobs: 20 resident refugees will be trained in the operation and maintenance of the plant and its equipment. The solar panels will be capable of producing approximately 2 megawatts, or $1.4 million (USD) of electricity a year. Any electricity produced in excess of the camp's needs will be fed back into Jordan's power grid at no cost to the Jordanian government.  Eventually, when the camp is no longer needed and is closed, the solar farm will be donated to the Jordanian government.
People living in the Azraq camp are currently using solar-powered lamps to light the interior of their shelters at night, but fewer daylight hours in winter mean that they are harder to keep charged and bright. In darkness, children can't play or study, and adults can't work on businesses or cooperatives to make money for their families. It's difficult to keep cellular phones charged, which in turn makes it hard to stay in contact with friends and family. With few street lamps, even a short trip to the toilet facilities can frightening and sometimes dangerous, especially to women and girls. Mayada, a refugee living in Azraq, told UNHCR that "electricity is life, and without it even the most simple things become a struggle."
With the new solar farm, maybe the struggle will be a little less for the refugees of Azraq. By building a source of reliable, renewable electricity, the IKEA Foundation and UNCHR are making things a little brighter for them while they wait to return to their old homes or move on to happier lives in new ones.
Photo Credit: Michael Davis-Burchat via Flickr under CC license