Is wind power coming on fast enough to help shift the world off fossil-fuel-generated electricity before temperatures get too high? Depends on how you look at it.
In 2014, Asia, Europe and North America – the usual suspects when it comes to wind power– had solid-to-great installation years. Meanwhile, Latin American (namely, Brazil) became a big-time player for the first time, and it all added up to a solid year for global wind.
All told, 51.5 gigawatts (GW) was installed in 2014, the first time the world cracked 50 GW in a single year, and cumulative global capacity now stands at 369.6 GW, according to the Global Wind Energy Council's just-released Annual Market Update.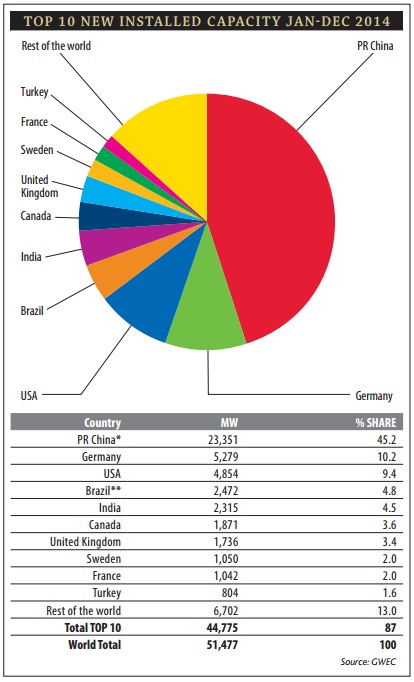 Peering at these numbers through the lens of climate change and the imperative to move beyond gas and coal in the electricity sector (oil in the transportation sector is another challenge), a couple of fuzzy pictures emerge.
First: Wind is doing better than the International Energy Agency — the big dog when it comes to analyzing and forecasting the world energy direction – had imagined. As Meister Consultants Group noted recently, growth has outstripped all but Greenpeace's "Energy Revolution" projection.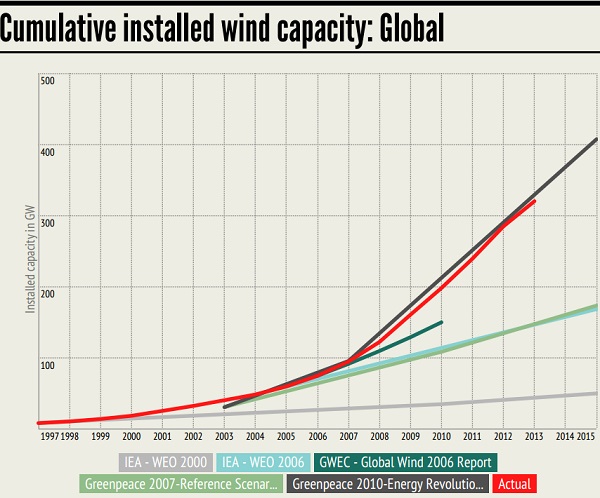 With solar also outstripping the old mainline forecasts, renewables have been taking a bite out of fossil fuels as a share of global energy generation. According to Energy Collective columnist Jesse Jenkins:
The share of renewable electricity (excluding large hydropower) in the global electricity mix ticked upwards from 8.5 percent in 2013 to 9.1 percent in 2014…. The growth of renewables was enough to push fossil energy's share of the mix down by 1.2 percentage points, according to data compiled by Jessica Lovering, a senior energy analyst at the Breakthrough Institute, from International Energy Agency (IEA) and UNEP/BNEF reports. That follows a 2 percent decline in fossil energy's share from 2012 to 2013.
That's the good news.
But last year's record wind growth amounted to a 16 percent increase, and that's actually slower than wind's annual growth rate of 22.7 percent over the past ten years. Which is to say, the wind curve is flattening a bit. That's what tends to happen as the base grows larger. And that worries the Global Wind Energy Council:
So what does this all mean for markets going forward? It means a period of sustained growth, but with unspectacular numbers, at least as far as we can see now. After slipping just below our Global Wind Energy Outlook (GWEO) Moderate Scenario at the end of 2013, due to 2014's spectacular growth we are back on track with the GWEO Advanced Scenario for 2014, and will no doubt be for 2015 and perhaps 2016 as well. After that, it becomes more difficult.
With China continuing to go gangbusters, Brazil pushing the Latin American sector, and Europe "steady," the big wild card might well be the United States. Continued Republican strength in Washington could spell trouble.