For the first time in the U.S., children are getting to school on an electric bus – and it couldn't be happening in a better place.
The electric school bus went into service last week in the Kings Canyon Unified School District, outside Fresno in the San Joaquin Valley, which has some of the worst air pollution in the country, particularly in the winter when high-pressure inversions can lock in soot. (During one extended episode earlier this winter, described as a "pollution siege" by the Fresno Bee, the putrid air was sending asthma sufferers and others with heart and lung issues to the doctor and prompting schools to cancel outdoor sporting events.)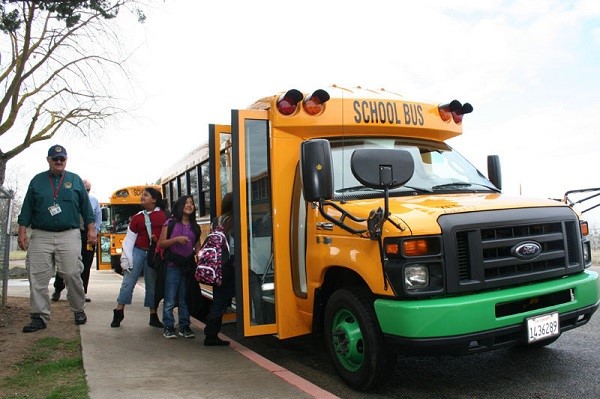 School buses can be a particularly potent source of air pollution, especially older ones, of which there are many. According to the U.S. Environmental Protection Agency, half of the nation's school buses are more than 10 years old and each one of those smelly old beasts emits "nearly twice as much pollution per mile as a semi-truck."
And yes, it's true that from a "long tailpipe" perspective, these buses aren't emissions free. But California's grid relies on very little electricity from the worst polluter, coal, and is increasingly taking advantage of clean sources like wind and, especially, solar.
The Kings County district bus is one of four that's being developed by bus-maker Trans Tech Bus and Motiv Power Systems, which supplied the electric power train for the bus. Funding support for the buses has come from the state though the state's Air Quality Improvement Program. (For more on the technical details of the bus, see our earlier story.)
According to Jim Castelaz, CEO of Motiv Power Systems, which supplied the electric power train for the Trans Tech Bus vehicle, a second bus should be delivered before school begins next fall. Castelaz said that other two buses, expected a bit further down the road, will also be toured around for other districts to test drive.