Tesla on Wednesday released more information about the planned giant lithium-ion battery factory that has everyone so excited – Elon Musk's already famous Gigafactory – indicating that it will invest around $2 billion in the plant, with unnamed partners putting in another two or three billion; that the plant will go to Nevada, Arizona, New Mexico or Texas; that construction on it will begin this year, leading to a production start in 2017; and that by 2020 the plant will churn out enough batteries to feed the manufacturing of 500,000 vehicles at Tesla's car factory in Fremont, Calif.
It's one hell of a grand vision. Very Elon.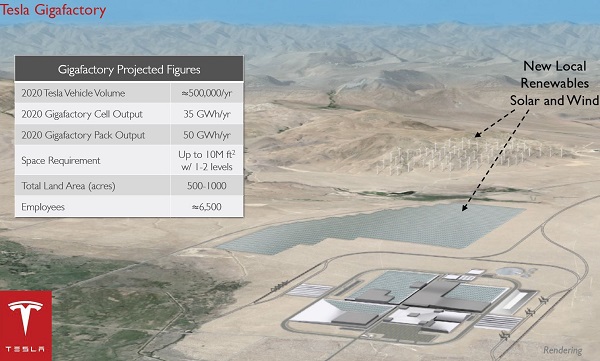 The plant by 2020 will "produce more lithium-ion batteries than were produced worldwide in 2013," Tesla said, highlighting the scope of the manufacturing landscape change necessary if electric vehicles are to move anywhere toward the mainstream. Tesla believes the plant can also help address another stumbling block for EVs: their cost. "By the end of the first year of volume production of our mass market vehicle, we expect the Gigafactory will have driven down the per kWh cost of our battery pack by more than 30 percent," the company said.
Tesla sells just the Model S now, at well toward $100,000, but is looking to expand its repertoire, first with the Model X SUV expected next year, then later, in a more affordable direction, with a "Gen III" sedan priced under $40,000.
But Musk, chairman of the solar installer SolarCity, clearly understands that batteries can go in more than cars; in December, SolarCity announced a new offering aimed at businesses called DemandLogic, which uses energy management (software) and storage (batteries) from Tesla to trim what can be a costly aspect of energy use, peak demand.
As Dana Hull reported in the San Jose Mercury-News, Tesla stated in a regulatory filing on Wednesday: "The applications for these battery systems include backup power, peak demand reduction, demand response and wholesale electric market services. We plan to ramp sales of these products in 2014."
Meanwhile, as Tesla mulls potential Gigafactory sites,  state economic development departments are no doubt furiously working to put together incentive packages – in the four states Tesla pegged, and perhaps beyond.
"It's going to draw interest from many others," analyst Dennis Cuneo, who helped Toyota pick manufacturing sites, told Bloomberg. Cuneo said he expected a "robust competition" where "incentives are probably going to be a big factor."
One interesting factor could be renewables; if the rendering of the plant released by Tesla is any indication, the company envisions nearby wind and solar. Solar could certainly work well in any of the four states named by Tesla, but a desire for local wind power, if Tesla truly sees it as important, could give an edge to Texas or New Mexico, which have superior wind resources.