Volkswagen, ahead of a scheduled release of its upcoming e-Golf electric car in the United States by the fourth quarter of this year, announced it has begun making the vehicle available in Germany. It is pricing there at around €34,900 starting, or about $48,000 USD.
With the e-Golf VW has taken its bestselling compact Golf model and dropped into it an electric drivetrain that delivers 85 kW / 115 PS and develops a maximum torque of 270 Nm. It can reach a speed of 60 km/h within 4.2 seconds and after 10.4 seconds the Volkswagen is up to 100 km/h. Driving range, depending upon nature of the route, driving style and load, is put at between 130 and 190 kilometers.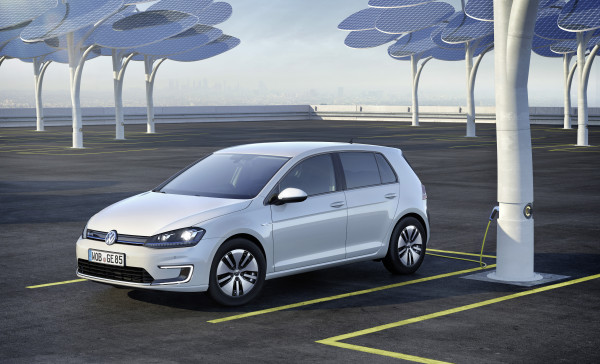 In terms of efficiency, based upon European standards, this electric car has a low power consumption of 12.7 kWh/100 km. It is said to be rather inexpensive to run, with power costs as low as €3.28 per 100 kilometers and a self-described "15 per cent more energy-efficient than the best steel-built direct competitor."
The e-Golf is fitted with what VW says are "a very good range of standard features, including four doors, the high-end 'Discover Pro' radio/navigation system, heated windscreen, automatic climate control, parking heater and ventilation, leather steering wheel, aerodynamically optimized 'Astana' alloy wheels and, being used for the first time by Volkswagen, full LED headlights. Another especially economic and likewise standard feature are the LED daytime running lights."
The electric vehicle as well comes with an 8-year / 160,000-kilometer battery guarantee.