Is it possible to make a run of the mill hybrid a cult hit if it is a limited release? That's what Toyota seems to be aiming for with word it will make available for sale later this month through its showrooms the Camry Hybrid SE Limited Edition for the 2014.5 model year.
Yes, that's right, 2014.5. A rather unusual way to label a vehicle's model year, to be sure. Production of the special Camry Hybrid tied to this branding will run between February and June of this year, being limited to just 5,000 units. The base retail price will be set at just under $28,000, with an optional upgrade package adding over $2,200 to that.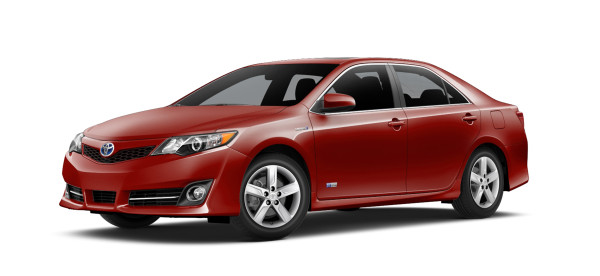 As for what you get in "special" hybrid, Toyota said it "combines many of the popular Camry SE grade's desirable appearance features with the renowned efficiency of Toyota Hybrid Synergy drive." Building upon the Camry XLE Hybrid's equipment level, it adds to the mix
Camry SE front fascia, headlights, side rockers, rear valance, rear bumper, rear spoiler, and 17-inch wheels with low profile tires to embolden this sedan's exterior.
 The Camry Hybrid SE's interior is also equipped with the four-spoke, leather-trimmed, steering wheel, silver interior trim, instrument panel, center stack trim, and  front and rear seats from the Camry SE grade.
For those who go in on the optional equipment upgrade mentioned earlier, Toyota throws in a moonroof and Display Audio with Navigation and Entune Apps Suite. Regardless of equipment offerings, the car is powered a 2.5-liter, four-cylinder engine and hybrid system with nickel metal hydride battery that yields a total system output of 200 hp.
Based upon all of this, are you more or less likely to buy this Camry Hybrid knowing it is a limited edition?