Tesla Motors, in its latest earnings report released earlier this week [PDF], highlighted its extensive plans for fiscal year 2014. I've placed that information from the letter below for your consideration, but in summary there are a couple big items to take note of. These include plans for a significant increase in the sales of its Model S electric cars, the completion of development of its forthcoming Model X, beginning development of its third generation electric vehicle and planning for a massive factory for batteries to supply its EVs.
We expect to deliver over 35,000 Model S vehicles in 2014, representing a 55+% increase over 2013. Production is expected to increase from 600 cars/week presently to about 1,000 cars/week by end of the year as we expand our factory capacity and address supplier bottlenecks. Battery cell supply will continue to constrain our productionin the first half of the year, but will improve significantly in the second half of 2014.
First quarter production is expected to be about 7,400 vehicles, which is significantly higher than the prior quarter production of 6,587 cars. However, as the number of cars in transit to Europe and Asia must grow substantially to support those markets, we plan to deliver approximately 6,400 vehicles in Q1. Deliveries will grow dramatically in future quarters as the logistics pipeline fills.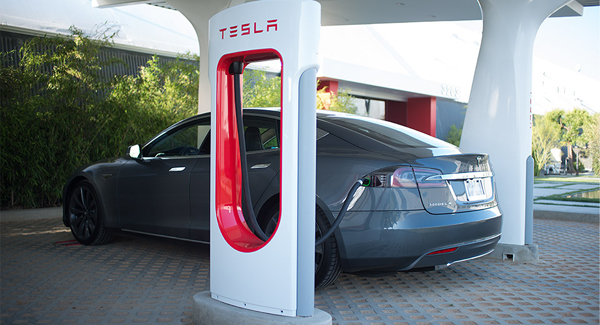 This year, we expect automotive gross margin to increase to about 28% (non-GAAP and GAAP) in Q4 through a series of small design improvements, better supplier prices and economies of scale. Q1 gross margin should increase very slightly from Q4. For the remainder of the year, gross margin should improve at a faster pace.
Operating expenses and capital expenditures will increase significantly in 2014, as we plan to invest in the long term growth of Tesla. We plan to expand production capacity for Model S and Model X, invest in our store, service and Supercharger infrastructure, complete the development of Model X and start early design work on our third generation car.
In Q1, operating expenses are expected to grow roughly 15%. R&D expenses will increase as design and engineering work accelerates on Model X. We expect to have production design Model X prototypes on the road by end of year and begin volume deliveries to customers in the spring of 2015. SG&A spending will grow as we expand globally our retail presence and add more Superchargers.
Very shortly, we will be ready to share more information about the Tesla Gigafactory. This will allow us to achieve a major reduction in the cost of our battery packs and ccelerate the pace of battery innovation. Working in partnership with our suppliers, we plan to integrate precursor material, cell, module and pack production into one facility. With this facility, we feel highly confident of being able to create a compelling and affordable electric car in approximately three years. This will also allow us to address the solar power industry's need for a massive volume of stationary battery packs.