If you can take your eyes off Tesla's stock for a moment, here's a little news about the car the company makes: It's awesome.
So says Consumer Reports in its new Top Picks 2014 feature, which puts the Tesla Model S at the top fo the heap as "best overall."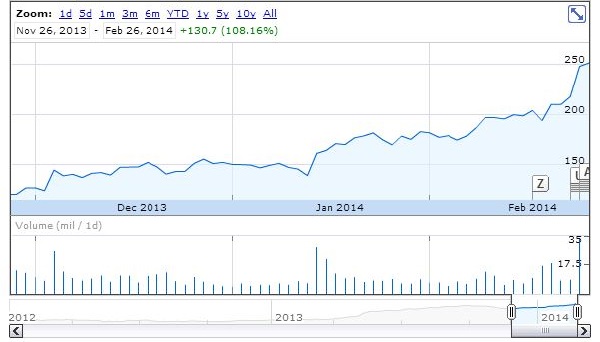 Consumer Reports used three criteria in its assessments – test performance, reliability and safety. Here's the short-take wrap on the Model S:
Sure, you can talk about this electric luxury car's blistering acceleration, razor-sharp handling, compliant ride, and versatile cabin, which can fit a small third-row seat. But that just scratches the surface of this technological tour de force. The Tesla is brimming with innovation. Its massive, easy-to-use 17-inch touch screen controls most functions. And with its totally keyless operation, full Internet access, and ultra-quiet, zero-emission driving experience, the Tesla is a glimpse into a future where cars and computers coexist in seamless harmony. Its 225-mile driving range and 5-hour charges, using Tesla's special connector, also make it the easiest, most practical, albeit pricey, electric car to live with.
This is a pretty extraordinary assessment of a newfangled car by a practically band-new company, but Tesla is breaking all the rules, right? Just look at that stock. A year ago, it was trading at $35. If only you had bought then: At one point today it was hovering around $263. That's a 650 percent increase.
The big driver has been the talk of Tesla opening up what head-man Elon Musk's calls a "gigafactory" which in fact would make batteries, not gigas. This helped inspire a Morgan Stanley analyst to slap a target price of $320 on Telsa's stock on Tuesday, then trading at around $218. Is $320 a rational valuation? What role are short-sellers playing? Is Elon Musk God? All questions that must be asked.
Note: Tesla later on Wednesday released some details on the Gigafactory. See our story here.