Oils derived from algae took a big step forward late last week as Solazyme – "the bioeconomy's Nike," in the words of Biofuel Digest – announced commercial operations had begun at plants in Iowa. But it might be time for us to stop thinking of this as a "biofuel" company.
We've concentrated on Solazyme's oils being used to produce drop-in fuels for ships and airplanes, and the company hasn't abandoned that side of its business. But with the latest step forward Solazyme was emphasizing – as it has for a while now – a range of possibilities at the two Iowa plants with partners Archer Daniels Midland (in Clinton) and American Natural Products (in Galvan). It's even coined the term "TailoredTMoil" to make the point that its oil can be used in a diversity of applications.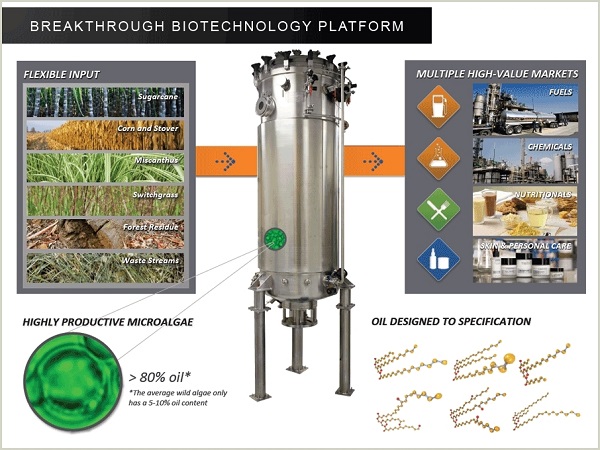 "Solazyme, ADM and ANP have successfully manufactured three distinct and unique TailoredTMoil products at the facilities, and products are currently being sold and distributed in both the U.S. and Brazil," Solazyme said. "Truckloads of product are now shipping from the Iowa operations for use in applications including lubricants, metalworking and home and personal care."
Solazyme said the Iowa plants expect to ramp to a nameplate capacity of 20,000 metric tonnes per year before the end of 2015, "with targeted potential expansion to 100,000 MT/yr in subsequent years."
The Solazyme process uses algae, working in the dark ("heteorophic"), to convert "a range of low-cost plant-based sugars" into oils, tweaking the microbes to give different industries the precise oils they seek for use as jet, ship or auto transportation fuels, or in foods, or in Brylcreem, even.
The company asserts that its "bio-based" products are more sustainable than the substances it aims to replace, like petroleum. It also is taking on palm oil, which of course is also bio-based, but hardly sustainable – making the point that it might take some time and considerable life-cycle analysis to understand just how much more sustainable Solazyme's alae-derived oils truly are.