It's a first, but it makes perfect sense: a LEED Platinum commercial building – the highest rating possible in the U.S. Green Building Council system – in a rural farm setting. And on an organic farm, no less.
This is the achievement of the 21 Acres Center for Local Food and Sustainable Living with its new, 12,000-square-foot building, located just 20 miles from downtown Seattle, in Woodinville, Wash.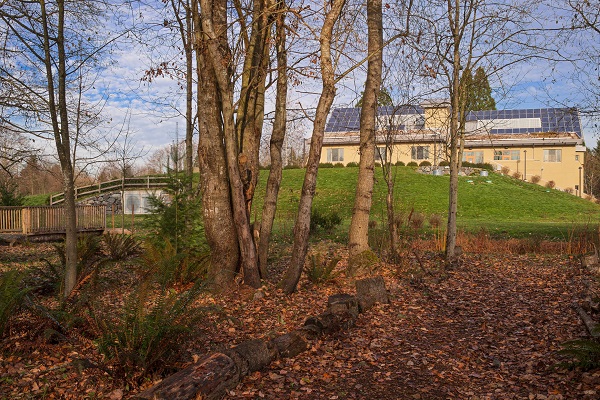 The 21 Acres Center's Platinum performance was built on perfect scores in Energy & Atmosphere, where it got 15 out of 15 points, and Water Efficiency, where it won five of five possible points.
A hefty component of the Energy & Atmosphere category is energy performance measured against a baseline for new buildings. The standard is rigorous – a solid 10.5 percent improvement against the baseline nets just a single point in the 10-point category. The 21 Acres Center said it aced the category – registering a nearly 47 percent improvement – with "insulated concrete form walls, ambient light and occupancy sensors, thermal windows and a gearless traction elevator."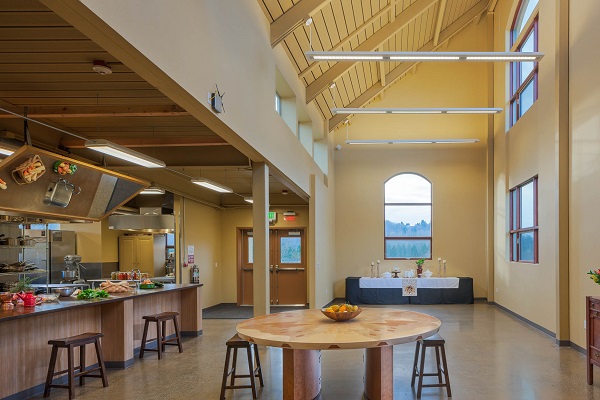 (Gearless traction elevator? According to the American Society of Mechanical Engineers, such elevators can "in some cases use up to 80 percent less energy than hydraulic lifts, without the expense and environmental headaches of oil-filled underground hydraulic cylinders. See the ASME's article on "What Makes an Elevator Green" for more info.)
Other features of the building, according to 21 Acres Center:
A 25.2 kW rooftop photovoltaic (PV) array generates approximately 25,000 kilowatt hours annually, offsetting about 15% of the facility's annual electricity consumption.
Low flow fixtures, including composting toilets and waterless urinals, save approximately 38,000 gallons of water annually.
All wastewater is handled on-site via a biofilter system, diverting 46,000 gallons of wastewater from the municipal sewer system annually.
Drive and pedestrian surfaces utilize pavers that allow runoff to penetrate and infiltrate into the ground.  A living roof captures and filters rainwater.
Here's a short video from the center that outlines its mission: