Kia Motors, looking to add an electric car offering to its stable of vehicles, formally unveiled to the world last week the 2015 Soul EV, its first all-electric, zero-emissions car sold in the US. Though it has been something Kia has been showcasing for the last few months, its revealing alongside the 2014 Optima Hybrid in Chicago confirms plans the automotive maker has for its launch.
The Kia Soul EV, according to Kia, will initially be available in the third quarter of this year in California and Oregon in the west, and New York, New Jersey and Maryland on the eastern seaboard. Other markets will follow thereafter "as infrastructure and demand grow." Pricing information will be revealed later.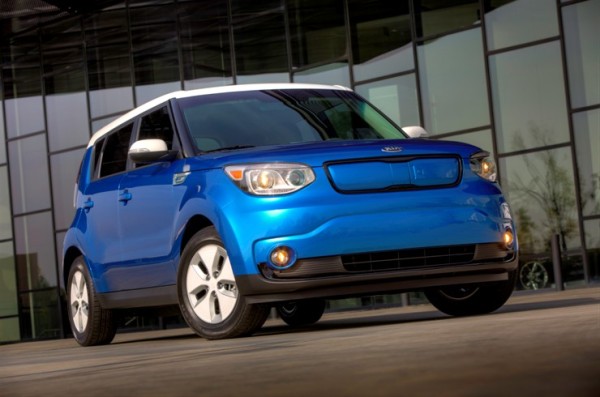 The car, which was recently honored by Underwriters Laboratory for integration of over 20 bio-friendly materials into its manufacture, is powered by an 81.4 kW, 109-hp electric motor that produces 210 lb.-ft. of torque. This motor draws its energy from a 27 kWh, air-cooled, 200 watt-hour/kg lithium-ion polymer battery located beneath the floor.
Technical specifications from Kia for the Soul EV indicate the car is capable of a zero emissions range "of approximately 80-100 miles of real-world driving on a full charge." Acceleration from 0 to 60 miles per hour is said to be less than 12 seconds, and top speed is electronically limited to 90 miles per hour.
Like other electric cars on the market today, Kia's model is capable of restoring energy to the battery through the process of regenerative braking, which captures up to 12 percent of the Soul EV's kinetic energy for this purpose. Four selectable driving modes help regulate how much regeneration specifically will occur.
In terms of the main recharging means for the car, two charging ports are integrated into the Kia behind a sliding door located in the front grille. One is a SAE J1772 port for Level 1 and Level 2 AC, while the other is a CHAdeMo DC fast-charging port (480v). Recharging times are said to vary from 24 hours for a fully depleted battery using a standard 120-volt outlet to under five hours when plugged into a 240-volt outlet.  An 80-percent charge can be achieved in as little as 33 minutes with a 50 kW-output charger.
Key technology features of the Soul EV include a Virtual Engine Sound System that emits an auditory alert at speeds below 12 mph and whenever the car is in reverse; downloadable apps that reside on the Soul EV's standard 8-inch capacitive-touch navigation screen; a special version of Kia's telematics and infotainment system; real-time battery-level status, distance to empty, and the ability to search for nearby charging stations; Bluetooth hands free controls and "an exclusive HVAC system designed to extend driving range by minimizing energy draw."