One of the goals of Tesla Motors in installing its Supercharger network of fast charging locations around the United States is making it so that Model S drivers could theoretically cross the nation making use of its stop off spots alone. Now two separate trips, one by a Tesla owner and one that was company sponsored, have shown this can be done.
With more than 70 Superchargers now in place around the countryside, the first undertaking of this epic trip wrapped up when one John Glenney walked into the Tesla factory in Fremont, California after having set out with his 26-year-old daughter from New York a week or so prior in late January. His cost in terms of "refueling" along the way? A big fat zero dollars.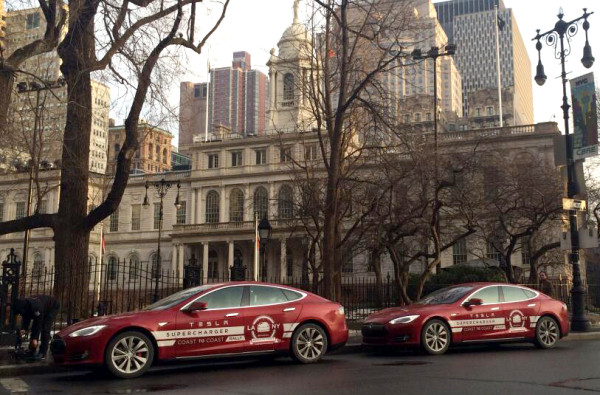 After five days driving between New York and California, the pair pulled into some Tesla chargers in the Los Angeles, California area before Glenney headed up the coast to finish off his road journey at the heart of Tesla's operations. During the cross country portion of the drive, the Model S covered a distance of 3,400 miles through 16 states, making use of 28 Superchargers along the way.
This wasn't Glenney's first cross country trip in a Tesla vehicle, according to the automaker. Two years ago, he drove his Roadster from Washington DC to San Francisco, charging the car at campgrounds along the way. He later traded in this first Tesla model for his Model S, followed later by buying two more using earnings from Tesla stock he owned.
In the more corporate style adventure, two Model S electric cars driven by a total team of 15 drivers set off at midnight on January 30 attempting to set a world record for lowest total charge time for an electric vehicle traveling across the United States. Departing from the Tesla design studio near Los Angeles, the goal was to get to New York City in a trip that essentially only stopped to charge the vehicles and swap drivers.
Just over 76 hours later, the two Model S vehicles pulled quietly into parking spots outside of New York's City Hall, relying only on Superchargers to complete the trip. In the course of the cross country excursion, over 59 hours was spent driving and just over 15 hours spent charging, likely setting the world record Tesla had intended to.
Tesla drivers along the way carefully recorded many details on the trip, noting, for example, that the longest distance between Supercharger stops was 247 miles, while the longest drive time between two charging stops was almost five hours. Being as it is winter, the cars at times drove through temperatures that ranged below zero degrees, while still saving the equivalent of 136 gallons of gas and $435 in what one would pay if driving a gas-powered car the same route.
And, speaking of the route, Tesla said its drivers, following the Supercharger placements that are located across the nation, cut a northern pass cross country. States they passed through along the charger lined path included California, Arizona, Utah, Colorado, Wyoming, South Dakota, Minnesota, Wisconsin, Illinois, Indiana, Ohio, Pennsylvania, Maryland, Delaware and finally New York.
Maybe on the next go around, Tesla can send its drivers along Route 66. Perhaps a new Supercharger path for the future?