Here's another sign of the growing competitiveness of wind power: An Oklahoma electric utility is taking a big whack out of the cost customers must pay if they want to get their energy from wind.
Public Service Company of Oklahoma, which serves more than a half-million customers in eastern and southwestern Oklahoma, said it was lowering the cost of its WindChoice program by 40 percent. The company is also giving customers more flexibility on how much of their electricity they want to earmark as wind-sourced, allowing them to purchase 100 kilowatt-hour blocks or go with a percentage of their total monthly usage.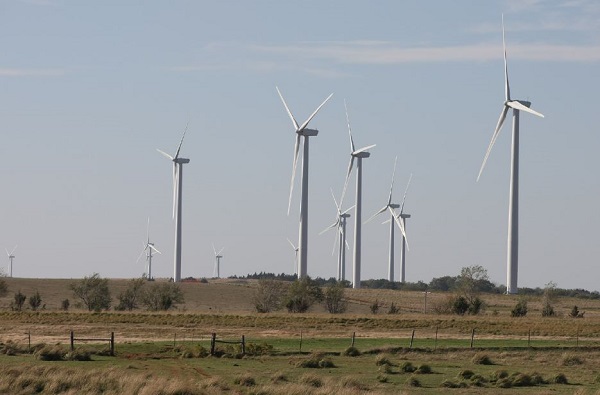 "By providing a lower price and greater flexibility, we're making it easier than ever for our customers to take advantage of and promote the tremendous energy resource that is our Oklahoma wind," a spokesman said.
According to the company's website, the extra charge for going with wind is a buck per 100 kilowatt-hours – the equivalent of one penny per kWh. That's a steep drop from the $1.72/100-kWh price premium that was charged when the program began in 2011, according to NewsOK.
PSO said the WindChoice program uses energy produced at the 99-megawatt Minco Wind Farm [PDF], but of course that's somewhat an accounting distinction; the wind farm feeds the grid just as a number of other plants do – and more wind is joining the PSO portfolio as costs come down.
Last year, Public Service set out to add 200 megawatts of wind to its portfolio, then, seeing the attractive price of wind power, decided to up that new amount to 600 MW. "The decision to contract for an additional 400 MW was based on extraordinary pricing opportunities that will lower costs for PSO's customers by an estimated $53 million in the first year of the contracts," the company said at the time.