There's a movement afoot to preserve pieces of the eastern span of the San Francisco-Oakland Bay Bridge and use the material to build a "modern, contemporary, self-sustaining eco housing and cowork multi-use space."
You know, a building. A Bay Bridge House.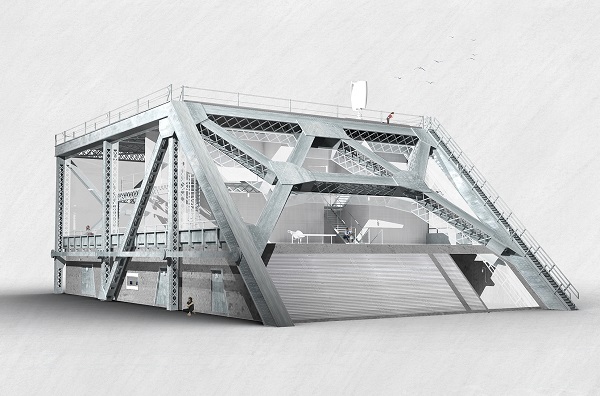 The tear-down of the old bridge span – when it was built in the 1930s, the largest cantilever bridge to be found – began last November, a few months after the spectacular new span opened, though the structure still appears relatively intact. More noticeable demolition is expected to get going soon, and Davis Grieshaber, the man behind Bay Bridge Building, is still working to get the officials to give him a crack at some of the goodies. "It's been a bureaucratic nightmare," Grieshaber recently told the San Francisco Chronicle. "I've been jumping through hoops for more than a year and a half."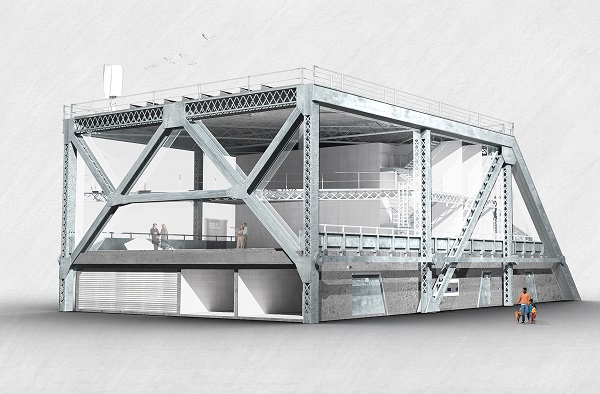 He knows exactly what he wants, listing "whole road sections, two level road sections, concrete, steel I-beams, steel girders, steel plates, trusses, wire, gates, fencing, ladders and walkways" as bridge parts that would be used in the planned structure.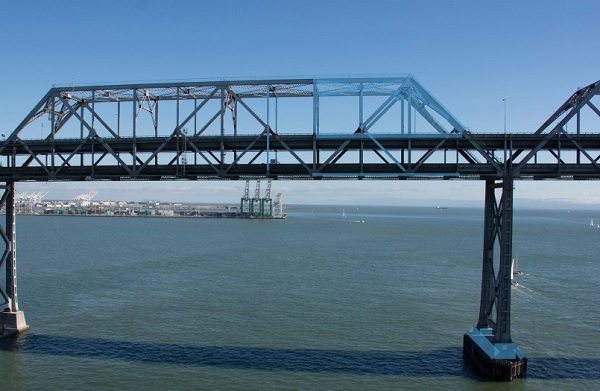 Now, this day and age, usable materials like old steel aren't just dumped in landfills; the Chronicle reported that it's due to end up in the hands of a recycling outfit. But Grieshaber has higher hopes. On the very slick Bay Bridge House website, he writes:
Some of the bridge should remain behind for future generations to enjoy. There are plans for pieces in Gateway Park, maybe a pier with a view where the bridge once was and even talks of pieces in a museum. We think that something more creative should be done with some of the scrap. Let's use a few small sections and create the most modern self-sustaining housing and eco multi-use space in the world.