Wyoming wind power developers and their backers have been trying to build a case for exports to California. Not only do they need big powerlines to make it happen, but they need California to improve its disposition toward out-of-state renewables.
Well, how does $750 million in annual ratepayer savings courtesy Wyoming wind power sound, Golden Staters?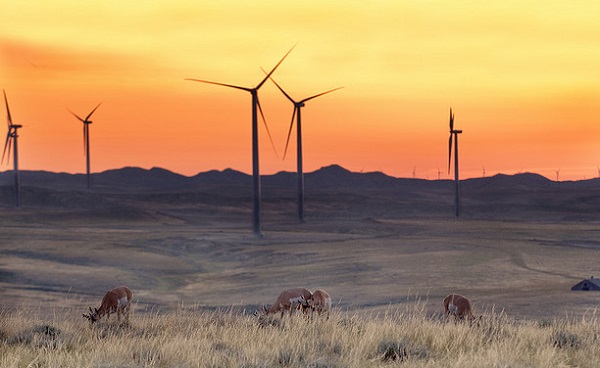 According to the Casper Star-Tribune, that's the message Wyoming could be delivering soon, based on new research from the National Renewable Energy Laboratory. The $750 million figure was revealed at a meeting last week of the Wyoming Infrastructure Authority, an entity formed by the state ten years ago to help it take economic advantage of its energy resources, in large part with new transmission development.
The figure is called a "preliminary conclusion" but is expected to be published in the coming weeks as part of a study commissioned by the WIA, the Star-Tribune said.
Although there are costs to moving electricity from Wyoming to California – in building the lines to do so, and in power lost along the way – Wyoming offers perhaps the best wind resource in the nation, if not the world.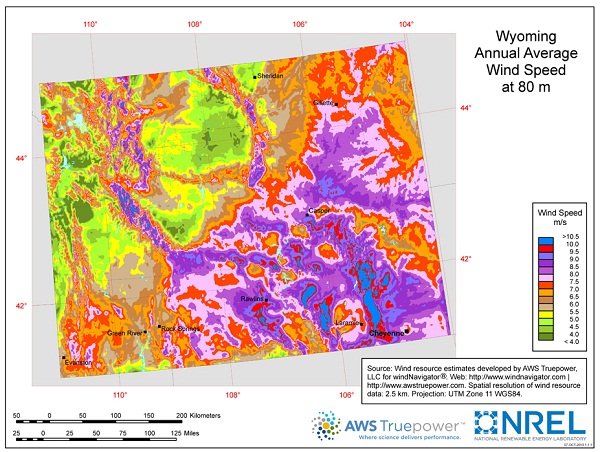 Also, researchers at the University of Wyoming say that the state's wind is complementary to California's own wind power as well as its fast-growing solar generation: "Wyoming wind and California solar makes up for the drop in California wind during the day in this instance," they said in a 2013 study. "Equally important is that production from Wyoming wind remains significant as the solar resource drops later in the day."
The Obama administration in October 2012 announced its backing of the giant Chokecherry and Sierra Madre Wind project south of Rawlins, Wyo., which could see up to 1,000 turbines putting out 2,000 to 3,000 megawatts of electricity. The company behind the project made no bones about what it hoped to do with the power. "The Record of Decision milestone moves us closer to having bulk supplies of clean, cost-effective electricity available to serve nearly 1 million U.S. homes – and in a timeframe well ahead of the RPS targets set by California and other Western states," Bill Miller, Power Company of Wyoming president and CEO, said at the time.
California, however, has refined its RPS to make it more difficult for projects from out of state to gain regulatory approval. The state needed big projects from surrounding Western states in the early years of its RPS, established in 2002. Now, not so much. "The pipeline of projects seeking future approval is robust," Gov. Jerry Brown's renewable energy advisor told Western grid players in 2011, in a letter [PDF] that essentially warned out-of-state developers that California might not be needing their power.
But if ratepayer savings and a good grid fit can be demonstrated, the state might change its tune. Which is where TransWest Express, a corporate cousin of Power Company of Wyoming, comes into the picture. It's aiming to build an "extra-high-voltage direct-current electric transmission system" that would connect the Chokecherry and Sierra Madre site to the far southwest. The Obama administration is strongly backing that project, too, but it's a huge undertaking, a 725-mile line, that would face regulator and financing challenges.