Electric bus development in the United Kingdom continues to develop across different facets. While much of this focuses in London, other parts of this island nation are seeing trials occur as well. One of the latest is in the town of Milton Keynes, where a five year pilot using wireless technology to charge the battery operated mass transit is being put into play.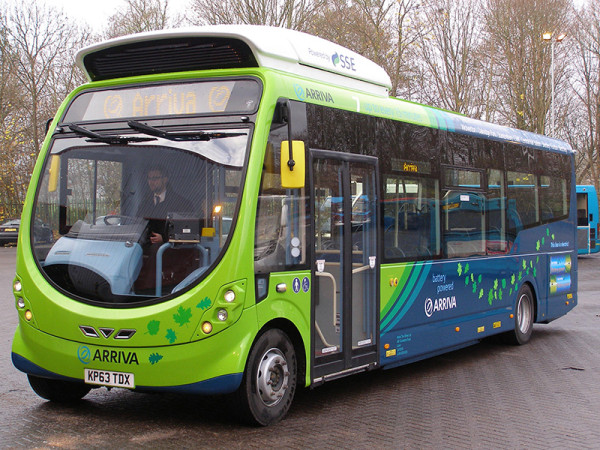 The trial, planned to kick of January 19 and managed by Mitsui-Arup joint venture MBK Arup Sustainable Projects, will involve eight electric buses that will take over a route "even diesel buses find demanding: running 17 hours a day, seven days a week, with each bus covering over 56,000 miles per year." Along this route
wireless charging plates set into the road transfer power directly to receiving plates underneath the bus, using a technique based on the principles of electrical induction. In just 10 minutes, a bus parked over a charging point will replenish two-thirds of the energy consumed on its 15-mile route. Only two wireless charging points are needed to service all eight buses, which will charge in the time scheduled for driver breaks.
Those behind this pilot, from an environmental benefits perspective, believe it will remove approximately five tons of particulates and noxious tailpipe emissions from the city's streets each year and approximately 270 ton of CO2 per year from the atmosphere. This is expected become even better as the years go along due to the United Kingdom moving more towards more renewable sources of energy such as wind power.
"I am delighted to be here in Milton Keynes today at the launch of the first electric wirelessly-charged buses in the UK," said Baroness Kramer, Minister of State for Transport, in a statement. "These ultra low emission buses will offer the travelling public a quieter, smoother journey as well as cutting carbon and improving air quality. This project represents a fantastic opportunity to learn more about extending the future capability and rollout of electric buses."