This Forest Service building isn't off-grid, but then again, residing smack dab in the middle of the Los Angeles Basin, it doesn't need to be.
The U.S. Forest Service's Technology and Development Center, is, however, remarkably close to self-sufficient, thanks to a remaking that has turned the nearly half-century-old facility into a combination energy miser/producer.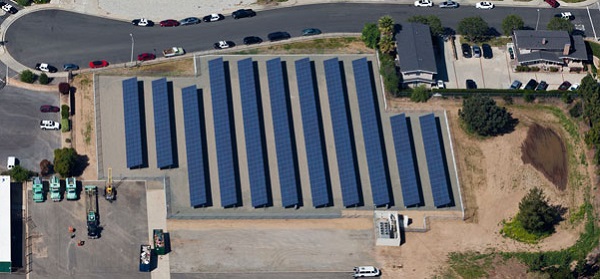 The Technology and Development Center, in San Dimas, Calif., now generates "more than double the facility's energy needs," according to the Department of Agriculture, making it the first zero net energy facility for the department. That achievement recently earned the project the 2013 GreenGov Presidential Award, which shares space on the trophy shelf with the Department of Energy's Federal nergy and Water Management Award.
The work on the building began several years ago with the replacement of an ancient HVAC system and installation of a high efficiency boiler, energy eefficient fluorescent lighting, plug load strips and occupancy sensors.
Then came a solar power system, consisting 1,288 235-watt Kyocera 235-watt modules, ground mounted at a fixed tilt. The system adds up to some 302 kilowatts of generating power. It cost nearly $1.5 million to install all that solar, but by supplying so much of the facility's electricity and producing lucrative power for Southern California Edison, it's said to save the government about $100,000 a year.
This project made a lot of sense for the Technology and Development center, which has among its functions adapting new technologies to meet the Forest Service's needs. "Other center projects are focused on increasing the safety of wildland firefighters and other forest workers, as well as enhancing the outdoor experience for the many public visitors to the national forests and grasslands," according to the Department of Agriculture.