Maine sunk one offshore wind power plan that would have used new floating-turbine technology, but it's keeping a second possibility afloat.
Maine Aqua Ventus I, a consortium project hatched at the University of Maine, is looking to get two 6-megawatt floating turbines in place in the next two or three years, on its way to a 500-megawatt wind farm in the Gulf of Maine in the 2020s. As reported in the Bangor Daily News, the project cleared a hurdle this month when state utilities regulators approved a term sheet for the project.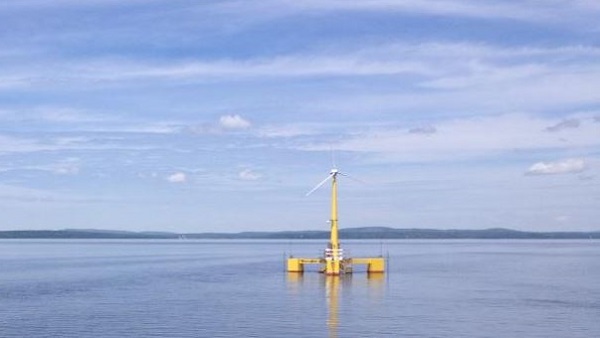 Maine Aqua Ventus thus lives on to tackle further challenges – namely, it's seeking a big grant from the U.S. Department of Energy in a competition with several other projects.
For a few years, Statoil had appeared to be the one that would take a shot at developing offshore wind off Maine using a type of floating turbine. But the Norwegian company grew weary of a difficult negotiating process and finally bowed out after Maine politicos showed a preference for the homegrown project out of the University of Maine.
Under the Maine Aqua Ventus I plan, the first phase of the project would generate 43,000 megawatt-hours of energy per year, which would be sold at 23 cent per kilowatt-hour, a big premium over other sources of energy, including onshore wind. But the idea is to test the possibilities for offshore wind – and to help develop an industry around its growth. Project leaders say at least half of the minimum $120 million in investment the project will require will go to Maine-based entities and that it will create 341 jobs.
Maine Aqua Ventus I is based on floating foundation technology used on the small-scale VolturnUS project deployed last year in Maine waters. Developed at the Advanced Structures and Composites Center at the University of Maine, it used concrete "shallow draft buoyant hulls … spread far apart, similar to a catamaran's hull."
Floating turbines are preferred because they can go in deeper waters, providing access to stronger, more consistent winds, and avoiding conflicts closer to shore.
Habib Dagher, director of the Advanced Structures and Composites Center, told the Daily News that the costs of electricity from the Maine Aqua Ventus will come down as the technology is developed, refined and scaled up.
"When you bought laptops six or seven years ago, your laptop cost $5,000 or more … and today you can buy it for a tenth that cost. Why is that? Because the industry has scaled up. And we're no different," Dagher said Tuesday morning. "In this industry, by scaling up the technology from the research labs into a demonstration and then a full-scale project, that's where the costs are going to drop. Our goal is to be competitive with other forms of electricity in the 2020s."